No amount of planning will prepare you for winter in Istanbul. For the season and the city are just a feeling, a meeting with yourself that is most intimate and profound. Suspended between two continents on the ever-shifting waters of the Bosphorus, Istanbul in winter will allow you endless strolls, and authentic moments of reflection, and will enchant you beyond all expectations.
It's not that we planned it like that, but every one of the many encounters we had with Turkey's largest city has been in winter. We spent one New Year's Eve in Izmir, but most of our winters have been punctuated with trips to Istanbul. For this reason, I have decided to write about it. I hope my words will convince you to give this encounter a chance. It might just prove to be the trip you did not know you needed. It has always been like that for me over the past five years. For your convenience, this article contains a few friendly affiliate links. Shall you make a purchase through any of them, we get a small commission at no extra cost for you. Thank you!
Winter in Istanbul – why go
Off the top of my head, there are at least five very good reasons to visit Istanbul in winter.
The weather is milder than in the rest of Europe!
You most likely will encounter rainy, windy, or snowy days, but you will also be spoiled with sunny memorable moments. There's nothing quite like the shimmering luster of the Bosphorus on a crisp sunny morning at Kadıköy pier. As you look over across the waters to the recognizable silhouettes on the historical peninsula, you'll know in your heart what Istanbul is all about. We'll come back to this later, hold that thought!
You'll be able to focus on the historical heritage of the city!
Good weather in Istanbul means a day trip to the Princes Islands, swimming, sitting at terraces overlooking the Bosphorus, or taking a boat ride. With all these leisure activities out of question, you'll get to enjoy the museums and historical sights and take enough time to explore them properly. It's highly worth it, I promise! See below our most recommended Istanbul readings and guides!
You'll have the city all to yourself!
That is, you'll only have to share it with the 15 million regular inhabitants, but the majority of the tourists will be gone. However, this is a great opportunity to experience the patient, exhausted, and optimistic daily rhythms of the locals' routine. That said, checking a guide to Istanbul for first-timers is always a good idea before your trip! We have some great reading recommendations below!
It will be much cheaper!
Turkey is at the moment one of the most affordable destinations in the world, even more so during the winter months. Getting more for your money is definitely an incentive when choosing a destination. Additionally, I do need to mention the service-oriented welcoming culture of the Turkish people. You'll be treated like a sultan.
You'll take amazing pictures!
I have a confession to make. I only have a handful of bad quality pictures from our winters in Istanbul. The city is so beautiful that I was just mesmerized and forgot to immortalize most moments. Thus, we'll also be grateful and happy to feature you on our Instagram account if you share with us your snapshots of Istanbul in winter.
Winter in Istanbul – where to stay
For your convenience, I handpicked five hotels in popular and easily accessible districts of the city. In making your decision, rest assured these suggestions are not sponsored and they simply represent our top 5 choices, were we to ever need a place to stay in Istanbul (we usually stay with family and friends).
If you want to be within walking distance to the historical attractions, enjoy a terrace with breathtaking views of the Golden Horn and Galata, as well as atmospheric rooms where you'll feel pampered like a sultan, this is just the place for you. We might give it a try ourselves in the near future!
However, we would be torn deciding whether to stay on the historic peninsula or cross over to the fashionable and lively Beyoğlu district. Located across the Golden Horn from the Sultan's residence, this was traditionally the district of various European communities in the city such as the Venetians or the Genovese. It still maintains the distinct character of those communities. The top hotel picks for this area are listed below.
A short walk from Taksim Square, Nova Plaza Crystal Hotel is ideally located 200 meters from a metro station and 100 meters from the airport shuttle stop. The famous Cevahir Shopping Mall is 3 km from the property and it can be accessed via metro, while the Nişantaşı neighborhood is within walking distance.
In the heart of the trendy and upcoming Nişantaşı neighborhood, Arcade hotel features spa facilities with a Turkish bath and a hammam. I'll talk more about this later, but it's nice to have the option literally at your doorstep, especially in winter.
A few steps away from Istiklal Street and Taksim Square, this affordable hotel is everything you'll need to comfortably explore Istanbul's attractions.
For those who prefer apartment-type accommodation in residential neighborhoods, we recommend Akin Suites on the Asian side of the Bosphorus, right at the Kadıköy pier. The preferred mode of transportation from here to the main attractions would be by ferry across the Bosphorus, which is also how locals commute daily. The suites are located within walking distance from the popular restaurants, markets, bars, and shops of the district. The Nautilus Shopping Center is also closeby.
Winter in Istanbul – what and where to eat
Most hotels offer a fantastic Turkish breakfast, which should be thoroughly enjoyed before heading out for a day in the city. As distances are quite big in Istanbul, do not plan to be back at your hotel until late in the evening.
Luckily for those visiting Istanbul in winter, Turkish food is meant to keep you warm and happy for a long time. Vegetarian Turkish food options are also plentiful! The savory high-calory baklava and other moist sweets such as lokma, kadayif, and kunefe will keep your energy levels high. Steaming hot Turkish tea is served everywhere, usually with a fresh simit pastry alongside. A local cocoa-like drink made from a root endemic to Turkey – salep – is only served in winter and is the perfect antidote to any type of cold! Try it!
Our favorite street food in Istanbul is balik ekmek, a fresh fish sandwich prepared on the spot by fishermen on the Galata bridge. While this authentic serving is worth every penny, the restaurants in the area are largely considered tourist traps and should be avoided. Instead, you could take an Istanbul food tour with a local or a street food tour with a local guide.
For dinner, several authentic options are at your disposal. You can go eat with a local family in the neighborhood of Sultanahmet and experience first-hand the famous Turkish hospitality. You can pick a Bosphorus dinner cruise from the ones listed below. Alternatively, you can go for an unforgettable fish dinner at historic taverns such as the Karaköy Lokantası or, our favorite, Uskumru.
Winter in Istanbul – what to do that's special
Read a book
The work of Nobel Laureate Orhan Pamuk has immortalized Istanbul and its atmosphere in an unmistakable style. The city has a melancholic vibe that transcends waters and history and it is thus a perfect venue for bookworms. On top of browsing the city's best bookstores, one can always stop for a coffee to enjoy a few pages on the shores of the Bosphorus. Our favorite locations for this are the Bebek Starbucks, Coffee Sapiens, or The House Cafe Ortaköy.
Also, those who've read Orhan's Pamuk Museum of Innocence will be happy to find out that the author opened a museum in relation to the book, which can be visited. You can read here more about it, while below we'll leave you some of our favorite books to pick during your winter in Istanbul trip.
Go shopping
I have already mentioned that Turkey is very affordable when compared to other European destinations. What makes it even more attractive as a shopping venue is the multitude of high-quality Turkish brands and hand-made products available. Bağdat Caddesi on the Anatolian side and Abdi İpekçi Caddesi in the fashionable district of Nişantaşı are the go-to venues for luxury shopping. Nuruosmaniye Caddesi is a pedestrian boulevard leading up to the Grand Bazaar that is lined with carpets, jewellery, and antique shops. You will also find here the Armaggan store with its seven floors of traditional crafts, textiles, local art, and jewelry. Istanbul is also home to several amazing shopping centers such as Akmerkez, Aqua Floryia, Kanyon, Forum Istanbul, Zorlu Center, or Akasya Acibadem. Enjoy!
Relax at a Hamam (Traditional Turkish Bath)
The Ottomans cherished running water and their traditional public bath rituals were centered around it. The bathing process roughly parallels ancient Roman practices and it is a socializing and cultural ritual, more than anything else. It starts with relaxation in a heated room that allows the bather to perspire freely. This is followed by a full-body wash and a massage. Finally, bathers retire to the cooling-room for relaxation. While some hotels offer these facilities on-site, there are also centuries-old places in Istanbul where you can enjoy them. We have listed below our best suggestions.
See a Dervish dance ritual
The Sufi Dervish whirling is a form of physically active meditation that is still practiced by the Mevlevi order in Turkey. It is a meditation practice performed within the worship ceremony (Sema) through which the performers aim to reach the source of all perfection. The spinning in repetitive circles is a symbolic imitation of planets in the Solar System orbiting around the sun and it is supposed to allow abandonment of one's ego and personal desires. More details about attending such a ceremony while in Istanbul can be found here or here.
Attend a Turkish folk dance performance
Turkey has a rich and vibrant folk dancing tradition. Dances are performed at all social occasions, from weddings to national and religious festivals, or local festivities. Folk costumes are extremely intricate works of art, sewn in vibrant colors. Each region has its own dances and costumes that reflect the cultural and historical tradition of the respective region. Some of the most famous dances are the Bar, from the province of Erzurum, the Halay in the East and Southeast, the Hora in Thrace, the Zeybek in the Aegean, the Horon in the Black Sea, and the Kasik Oyunu from around Konya. An evening spent attending a traditional dance performance will be a cherished memory of your time in Istanbul.
Alternatively, a traditional show and dinner experience that incorporates elements of belly dancing on top of the traditional ones might be also something you want to try. You can even experience this during a Bosphorus dinner cruise.
Sample some contemporary art
Situated at the meeting point of Europe and Asia and a melting pot of cultures over the centuries, Istanbul has a thriving contemporary art scene an ever-growing art market. From countless art galleries to an excellent Modern Art Museum and its own annual contemporary art fair, the city on the Bosphorus is a magnet for art lovers all over the world. To make the most of your time here, opt for a Guided Contemporary Art Walk.
Winter in Istanbul – what to see
The Hagia Sophia Museum
Literally The Church of the Holy Wisdom, Hagia Sophia was built at the peak of the Byzantine empire and has served as both Cathedral of the Eastern Orthodox Church and as an Ottoman Mosque. Nowadays, it carries characteristics of both Byzantine and Ottoman cultures, being a perfect synthesis of the millennial history of the city. Rightfully converted into a museum, the Hagia Sophia still awes with its majestic dome, breathtaking original mosaics, and intricate feats of architectural artistry. For this attraction, there's a queue even in winter so make sure to buy your tickets/book ahead.
The Blue Mosque
When Sultan Ahmed I decided that there should be altın minare (gold minarets) crowning his new place of worship, the architect heard altı minare (six minarets), leading to the building of this jewel of Ottoman architecture, right across the square from Hagia Sophia. Sure, they got into a little bit of trouble as the only other building in the world to have six minarets at the time was the Prophet's Mosque in Mecca. But who hasn't? And most importantly, it was totally worth it! Check out the mosque's breathtaking interior decorated with 20,000 handmade ceramic Iznik tiles (thus the name Blue Mosque). The Blue Mosque and the Hagia Sophia are best seen together during a small tour visit – click here for details!
Topkapi Palace
The Topkapı Palace or the Seraglio was the main residence and administrative headquarters of the Ottoman sultans after the conquest of Constantinople by Mehmed the Conqueror. It is uniquely built like an intricate series of pavilions and courtyards and a guided tour is highly recommended to make the most out of its outstanding collections of historic and religious artifacts. Take your time to walk the grounds, discover ever-changing views over the Bosphorus, Golden Horn, and Galata, understand life in the harem and the rituals that punctuated everyday life in this highly organized structure. Some prior reading about the Ottoman sultans might come in handy, thus we have collected a few recommendations below.
If you have more time to spend in the city, try to get to a concert in Hagia Irene, a Byzantine church located in the outer courtyard of Topkapi. It has excellent acoustics and a very interesting history. Older than Hagia Sophia which replaced it as the seat of the Church Patriarch, Hagia Irene has never been converted to a mosque, but it was rather used as an arsenal and a repository for war trophies by the Ottomans.
Basilica Cistern
Who here has read Dan Brown's Inferno and remembers the Istanbul concert location where, in the end, a virus is released to unknown consequences for humankind? Hidden across the street from Hagia Sophia, the Basilica Cistern is worth a visit even if you're not here in search of the famous Medusa head pillar! Unlike the Ottomans who preferred running water from fountains, Byzantines stored their supplies in cisterns of which this one is the most impressive. We are talking about an underground chamber of about 9,800 square meters (105,000 sq ft) capable of holding 80,000 cubic meters (2,800,000 cu ft) of water. The ceiling is supported by a forest of 336 marble columns, each 9 meters (30 ft) high. This architectural and engineering masterpiece is nowadays used as an event/concert location, having a pleasant constant temperature throughout the year!
Suleymaniye Complex
The second-largest mosque in the city was commissioned by Suleiman the Magnificent and designed by the imperial architect Mimar Sinan. It is the city's largest Ottoman-era mosque and it functioned as a charitable foundation, featuring a hospital, soup kitchen, schools, a bathhouse, and a kervanseray for travelers. Often overlooked by visitors, it is its silhouette that crowns Istanbul's third hill, making this mosque an irreplaceable landmark of the city. To make the most out of your visit, why not book a guided tour explaining its history and secrets?
Grand Bazaar and Spice Bazaar
No visit to Istanbul is complete without a stop at the Grand Bazaar, without any trace of exaggeration – the beating heart of the city. Turkey's centuries-old trade tradition has kept the city on the Bosphorus thriving at the crossroads of cultures and there's no better place to experience it than here. 4000 booth-like shops line 66 streets and offer everything from carpets and textiles to souvenirs, jewelry, leather, and clothes. It takes training to recognize the best shops and barter like a local, thus take one along to guide you! It will be money well spent!
The Spice/Egyptian Bazaar is a short walk away and should not be missed under any circumstance. It's here that you can buy Turkish traditional teas, baklava, dried fruit, oriental spices, aromatic herbs, colorful Turkish delight of divine tastes, olive oil, and natural soaps. Added advantage – from here you can walk over the Galata bridge or take the ferry at the Eminönü pier and continue to the city's attractions located outside the historic peninsula.
Galata Bridge
I have written above about my favorite street food in Istanbul, balik ekmek. This is a fish sandwich prepared on the spot by fishermen on the Galata bridge, the city's historic communication line between East and West. It is here that you'll get the best sunset views of the two worlds that met on the shores of the Golden Horn – the Ottoman peninsula punctuated by elegant minarets and the Westerners' quarters best known by its landmark, the Galata tower. It is a place not quite like any other in the world, buzzing with activity, history, and more importantly, hope. Take your time to feel its atmosphere before moving on.
The district on the other side of the Golden Horn from the old city is nowadays known as Beyoğlu. Previously, it was known as the region of Pera that surrounded the ancient coastal town Galata which faced Constantinople across the Horn. Nowadays the three denominations are used almost interchangeably.
Istiklal Street
Beyoglu's most famous avenue runs for almost one and a half kilometers between the Galata Tower and Taksim Square. Crossed daily by three million people, you'll find here international chain shops as well as independent, old-fashioned ones. However, the street is most famous for its 19th-century architecture, historic cinemas, churches (St Antoine, Santa Maria), consulate buildings, and innovative art galleries. Don't miss the French Street (Cezayir Sokak) where the locals dine with live music in the back streets of the neighborhood.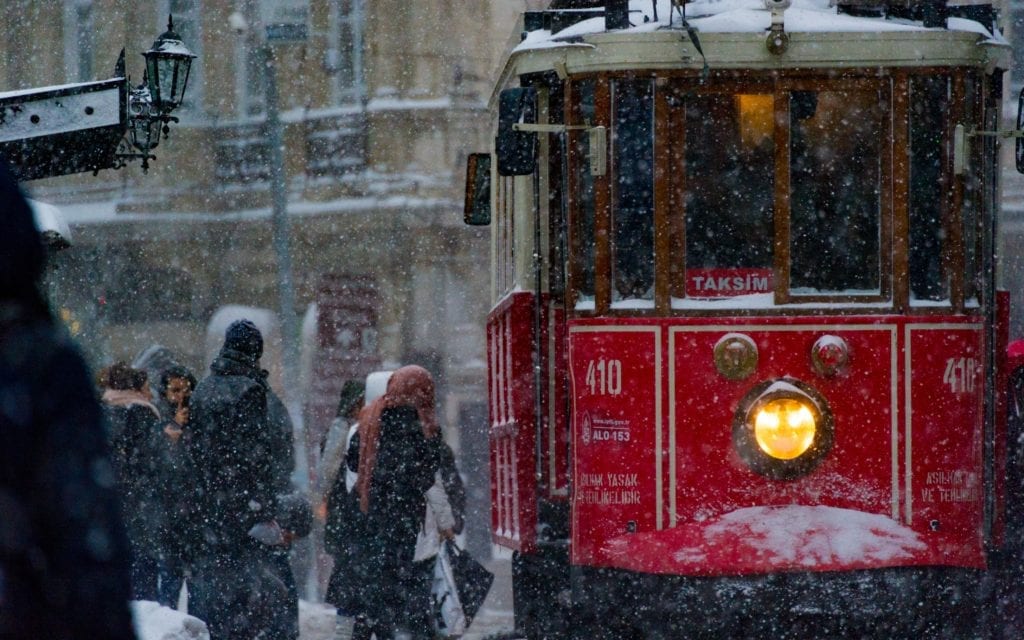 Ortaköy
I still remember the rainy winter afternoon we spent at the Ortaköy pier. Luckily, this neighborhood prides itself with the best kumpir (baked filled potatoes) in Turkey and that made the highlight of the day…..or maybe it was the view over the Bosphorus at the foot of the Mehmed the Conqueror Bridge that links Europe to Asia….or the beautiful baroque Ortaköy Mosque located on the waterfront…..or the open-air Sunday crafts market with authentic products….or the amazing meal we had at The House Cafe….or the impressive Dolmabahce Palace we took our time to explore during the morning. You see, that's the point about winter in Istanbul. It allows you to get lost with your thoughts, to understand the city's past and present, to gather hope amidst melancholy, and to look at the world with different eyes. There's nothing quite like it. But I've said that before!
Kadıköy pier
According to legend, Istanbul is the great capital that was to be built "across from the city of the blind", the ancient Chalcedon. The inhabitants of present-day Kadıköy must have been blind to not recognize the strategic position of the peninsula on the Golden Horn when they built a city across from it. But then again, they probably weren't. If we are to end with the beginning, take along one of Buket Uzuner's books and have a tea at the Kadıköy pier, after having browsed the local market for a few hours. From here, you'll have stunning views of the entire city – the Golden Horn, the Galata Tower, Leander's Tower (another legend, for another time), the Haydarpasa train station. Known landmarks and hidden mysteries, this could be the endpoint of your first winter in Istanbul. Or the beginning of your second….you see, you're not quite sure now, are you?
Winter in Istanbul – final thoughts
I have gotten melancholic on purpose over the last two paragraphs. I do not wish to end an article on Istanbul with a cold account of sights and places, things to do, and checklists. I wish to end with the few pictures we do have of our time there. With the comfort of a mild, sunny winter morning when you can take a Bosphorus cruise. With the memories of winters past and the excitement that a city such as Istanbul exists to be enjoyed in every season. With the promise that we'll help make your visit memorable and unique, filled with all the things that make Istanbul one of our favorite places on earth. The contact form is to your right.