Autumn in Vienna is peaceful. So much so that the multitude of season-specific activities that make it, probably, the busiest of all, come naturally and at a leisurely pace.
While locals are busy getting their calendars full of the last sunshine rays, the first new wines, and that awesome concert/exhibition – visitors have the perfect opportunity to mingle unnoticed and enjoy. This is a local's rundown of the best things to do in Austria's capital in autumn. It stems from the author's firm conviction that autumn in Vienna is a perfectly magical place to be!
Please note that this article contains a few friendly affiliate links. Shall you make a purchase through any of them, we get a small commission at no extra cost for you.
Please note that due to the unstable epidemiological situation travel to Vienna should only be attempted in accordance to national and international regulations and the websites of events and institutions should be checked beforehand for an outline of safety measures and latest updates.
Towards the end of August, the sky above Vienna fades into distinct shades of blue, unseen in the peak of summer. It is then, before the first leaf turns yellow, that the locals know autumn is upon them. In the following days, chestnut trees begin their dance of ferruginous leaves and ripe fruit on the alleys, followed in closely by other trees acquiring golden patches in preparation for the final waltz. The city turns peaceful as the busy routine of school and work sets it.
However, for the connoisseurs, there's a whole lot of season-specific activities that make autumn in Vienna a perfectly magical place to be. Arguably, this might indeed be the best time to visit Vienna.
An interesting fact is that the frequency of moving in/within/out of Vienna is the highest during the autumn months. If you need this kind of service and you don't know German, don't worry! The best moving companies in Vienna hide under the keyword "Umzugsfirma Wien".
Autumn in Vienna – insider's tips from Vienna, Book, and Travel
As locals who have lived in Vienna for 11 years, one of the things we do gladly at Vienna, Book, and Travel is to offer personalized advice based on interests/budget in Austria's capital. Get in touch with us a couple of weeks before your trip and we will answer your most pressing questions for free!
While we are unable to meet you personally or provide you with a full itinerary at the moment, we'll gladly offer you a half an hour free call to go over your stay and give you some insiders' tips!
Autumn in Vienna – check out these additional resources from Vienna, Book, and Travel
Last year we made this video about autumn in Vienna which was planned to go on for 10-15 minutes. It turned out, however, that there are so many activities to go through that the whole thing took almost half an hour. That's one of the main reasons this year around I decided to write a blog post about it. I still quite love the video though, it was one of our first ones.
But let's get over that autumn nostalgia just enough to dive into the city's beauty at this time of the year. Its parks and gardens are amazing under the mild sunshine and the misty rain alike.
Florists go out of their way to provide colorful bouquets to lighten the mood, vendors of baked potatoes and roasted chestnuts keep up the pace, while street musicians are unparalleled at making the spirits happy. For getting into the mood correctly, do check-out our itinerary for one autumn Sunday in Vienna and our guide to the city for first-time visitors.
Culture addict's autumn in Vienna
Autumn in Vienna – Books
I cannot stress enough how Vienna is a book lover's paradise. The entire city is an open invitation to take a book along wherever you go. Unlike any other place I've seen, Vienna itself offers you plenty of opportunities to enjoy it – in the tram, at your coffee house, in the park.
It is for this reason that I've put together a list of the best books set in/about Vienna as well as a one-day itinerary for book lovers in Vienna (described in the Instagram post below). These locations are very much worth checking out in autumn, as new titles and releases fill the shelves after the summer torpor.
Autumn in Vienna – Museums
The majority of Viennese museums kick off the new season with special exhibitions. Therefore, it is always advisable to check out their websites beforehand. For example, the Albertina hosts an exhibition dedicated to Modigliani this year (2021), while kicking off its new location the Albertina Modern.
If you want to get a feeling for the variety of options available, the Long Night of the Museums .at the beginning of October is usually a good place to start.
Autumn in Vienna – Concerts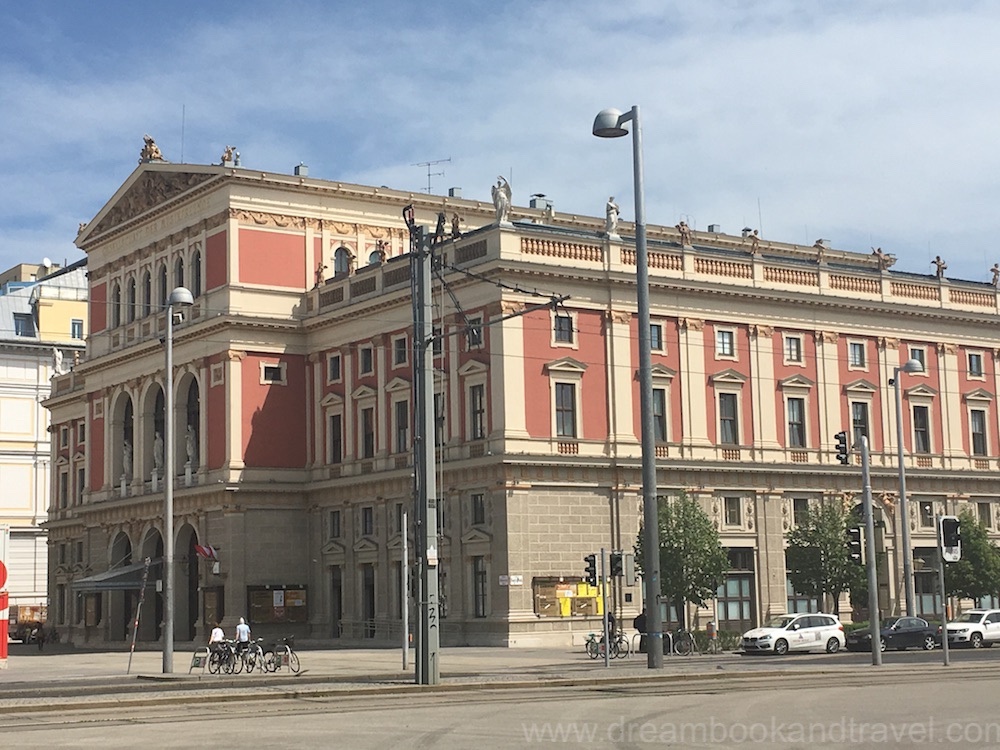 All major concert houses open during autumn in Vienna after the summer break. The Musikverein (Vienna Philharmonic Orchestra), the Konzerthaus (Vienna Symphony and Vienna Chamber Orchestra), and the Theater an der Wien (modern re-interpretation of opera classics) provide plenty of options for classical music lovers.
The Vienna State Opera even has a giant outside screen installed on Herbert von Karajan Platz, where people can watch live, for free throughout September, performances from inside the house on selected dates. Musical lovers will not want to miss a performance at the Ronacher or the Raimund Theater, while jazz aficionados should check out what's what at Porgy and Bess.
The good news – tickets for all types of performances can still be purchased from the websites of the providers. We are happy to help with that – just drop us a line or let us know in the comments below!
Theater lovers will not be disappointed either. Vienna's English Theater, starts the season in force (please do check the COVID-19 guidelines) while the Burgtheater and collaborating locations across the city stage a large spectrum of plays, from Euripides to Ionesco.
Autumn in Vienna – Films
One of the things I love about summer in Vienna is the multitude of outdoor cinema locations. As soon as September starts, however, all that moves inside so you need a good guide to navigate through the options. Be it the English language movie theaters, the Film Museum, or the international film festival Viennale – there's something for every cinephile's taste on offer. Make sure to keep your eyes open.
Foodie's autumn in Vienna
Autumn in Vienna – Wine
Vienna is the only capital city with significant winemaking operations within its limits. The most famous of the winemaking neighborhoods on its outskirts is called Grinzing. You will find here countless wine taverns (called Heuriger) where you can taste the new wine (also called Heuriger), the wine that is in the making (Sturm – with a 4% alcohol concentration), or have a grape juice (Traubenmost) while enjoying a home-cooked dinner and live music. This is the most comprehensive guide to the Heuriger that we could find.
The Vienna Wine Hiking Days/Weekend happening every year gives guests the opportunity to spend a day among vineyards sampling the products and talking to the producers. This is an event not to be missed, all the information about it can be found on this website.
Autumn in Vienna – Special Dishes
Autumn is by default Kurbis (pumpkin), Maroni (chestnuts) and Zwetschgen (plums) time in Austria. The country's cuisine is very much seasonal for the delight of locals and visitors alike. While the signature Kurbiskernoel (pumpkin seed oil) is a great gourmet souvenir to take along, do not hesitate to taste anything with the word Kurbis in it while here – from soup to pastries. Except for the pumpkin spice lattes – I'd put the breaks on those in the capital of traditional coffee culture.
As long as that's settled and you decided to listen to our advice and not wait in line at Sacher for the homonymous famous cake, we suggest you head off to one of the branches of K.u.K. Café-Konditorei L. Heiner or Kurkonditorei Oberlaa, the best providers of freshly made seasonal pastries in the city.
Autumn in Vienna – Thematic Festivals
Genussmeile
An alternative/addition to the Vienna Wine Hiking Days (see above) – 80 winegrowing enterprises from the Vienna Woods region offer their products for sampling for free under the motto Hike, Taste, Enjoy! This is happening along the 1st Vienna water line hiking path between Mödling and Bad Vöslau.
The local alternative to the Oktoberfest takes place in the Vienna Prater in front of the Giant Ferris Wheel. Traditional costumes, live music, beer, good food, and good cheer all await for you there! Mark your calendars!
The yearly Harvest Thanksgiving Festival takes place in the Augarten, but will be skipped in 2020 due to the coronavirus pandemic. Agricultural and forestry enterprises from all regions of Austria present the local cultural and culinary diversity. A varied program for the whole family, delicious regional delicacies, and musical entertainment are guaranteed.
This festival dedicated to Styrian pumpkin farmers has become a fixed point in the calendar of Viennese. The venue offers panoramic views over the entire city and is also a popular starting point or conclusion for beautiful autumn hikes through the Biosphere Reserve Wienerwald.
Guaranteed entertainment for the entire family!
When does autumn in Vienna end?
As surprising as that might sound, there is an exact time point when autumn in Vienna ends. For us, as for many other Viennese, that is on 11.11 at 11.11 (11th of November at 11.11 o'clock). This exact time officially marks the beginning of the ball season in Vienna and is celebrated in the main square in front of St Stephen's cathedral with public waltzing. You'll get a feeling for the atmosphere of it all in the movie below.
It is in preparation for the upcoming ball season that all Viennese dance schools also open their doors in autumn with new course offers. For those just passing by for a short time, most schools do provide afternoon waltz crash courses. Drop us a line if you'd like to try that out, we'll find something suitable for you!
The same week that the ball season begins, Christmas markets also open their doors and restaurants start serving traditional St Martin Goose dinners. It's another magical time in Vienna, the transition towards December and the full-blown Christmas cheer.
Therefore, it is very very hard for us to pinpoint the best time to visit Vienna. Thus, we always suggest you simply pick your favorite season and come experience it in Austria's capital.
Watch one of our many live videos below to learn more, follow our social media channels for weekly suggestions and updates, and subscribe to our newsletter for exclusive offers. We are looking forward to hearing from you!
Like this article? PIN IT for later!