We are parents and hobby travel bloggers with full-time jobs as scientists. Also, several logistical issues have prevented us from traveling extensively this summer, the current pandemic notwithstanding. However, we are fully committed to leading a travel-inspired lifestyle and offering our toddler as many meaningful experiences as possible. That is why we have optimized our weekend routine with a toddler to feel like a holiday. These are our tips for an optimized staycation weekend getaway.
Travel-inspired weekend routine with a toddler – organization aspects
The decision to make each one of your weekends feel like a holiday is no easy feat. Mainly because full-time working parents commonly use weekends to catch up on housework and regroup. Over the past year, we have implemented a few ground rules that help us stay on top of mundane tasks throughout the week, such that we do not overcrowd our weekends with errands. Here are our top ground rules and tips.
We keep weekends completely free of regular toddler activities (music course, swim practice, ballet class etc), at least during the summer. We might revisit this over the winter months when other entertainment options are limited.
Unless it's a real emergency, we don't work at weekends. Granted, this might be easier done in Austria where work-life balance is the norm, but we have learned over the years that work done at weekends will reduce efficiency and concentration later in the week, so we shut off work for two days every weekend.
We devote 30-40 minutes each parent/a day during the week for housework and/or running errands. From putting in a load of laundry to getting groceries or tidying up, we try to stay on top of tasks on a daily basis. It turns out we usually divide this into 15-20 min in the morning and 15-20 minutes in between dinner and bedtime, as those are the times when Ilinca plays or watches TV. Sometimes, she even helps out. To be honest, we do sometimes get help with major house cleaning, but whether this happens or not it does not affect our weekend routine with a toddler.
We don't plan more than one thing per weekend. A travel-inspired weekend routine does not mean we need to have the two days planned to the minute and packed with sightseeing tours and museum visits. We settle on one main activity per weekend and let the other things fall in place around that one thing.
Travel-inspired weekend routine with a toddler – what to plan
One of the biggest mistakes we've initially made when planning a travel-inspired weekend routine with a toddler was to schedule too many activities for the available time. We have found that going for one main activity a weekend brings the best outcomes, as we are more relaxed, the toddler is less tired, and we still have plenty of time to be spontaneous, as I'll explain in the next section.
Living in Vienna we are, of course, spoiled for choice when it comes to picking things to do. The most important criteria for us are, however, the availability of child-friendly food options (to buy or brought from home), a nearby child entertainment option (either a playground or a child-friendly activity in itself), and that the activity should fit timewise in our toddler's sleeping schedule. Ilinca is already quite resistant when it comes to going without daytime sleeping, but she does enjoy and needs weekend naps if given the option. Thus, we plan ahead such that we can start as early as possible in the morning (8 AM is totally fair game as she is usually up by 6-7 AM) and be back latest around 3-4 PM such that she can still fit in a nap before dinner.
For families who feel they might need a bit of extra accountability to get moving, we do suggest planning these activities with another family. It's another advantage of being at home – friends with kids are a call away and usually undertaking something together every weekend fits very well in our weekend routine with a toddler.
Types of activities that could work for the whole family and that have worked wonderfully for us include:
day trips to nature – we love exploring the Vienna Woods by car, stopping for picnics or a stroller-friendly hike, and if there's a stream of water nearby – happy toddler, happy parents.
day trips to swimming pools and aqua parks – depending on the local options, these can be amazing for the whole family. We are lucky enough to be able to swim in the lake next to our house, but making it into a day trip can sure be fun.
child-friendly local museums – Any local museum that features activities/workshops/exhibitions for little humans are fair game.
a visit to the zoo or a nearby farm – be it the zoo, a petting farm, or a farm where toddlers can get their hands dirty (quite literally), anything involving animals is a big success with kids.
In Vienna, we particularly recommend the Schonbrunn Palace grounds that feature one of the world's best zoos, a petting zoo, horse-back riding, a playground, a children's museum, a strudel-making workshop, a maze, and a carriage museum, among other entertainment options.
a new experience – be it a cooking class, a horse-drawn carriage ride, an adventure park, or a cultural event (children's concert, children's theater) – any new experience will be fondly remembered and get you all out of the daily routine and offer your travel-inspired weekend routine with a toddler a focal point.
a family biking outing, a train ride, a boat ride – anything that allows your toddler to experience a new mode of transportation will for sure get him/her excited and happy. We tend to alternate biking trips to the nearby Lobau national park with boat rides to Bratislava on the Danube or train rides to nearby cities.
Travel-inspired weekend routine with a toddler – what to include
Now that you have researched, selected, and organized the main activity for your travel-inspired weekend routine with a toddler, it's time to figure out how to use it to transform your whole weekend into a staycation experience that feels like a getaway. And as we've already established you will only be doing minimal housework (about the same amount you would be doing if staying in a rented apartment, that's my reference), what should you be doing instead?
Plan for at least a meal in conjecture with your main activity. Depending on budget and preferences, aim to eat at least one meal out before/during/after your main activity. Examples can be as creative and crazy as taking the train to eat lunch in a nearby city (either at a restaurant or a pre-packed picnic) – add in a stroll and a stop at a playground there and you've got yourself a winner.
What we, for example, have done the past weekend was to meet friends for brunch at the Bootshaus, which is an amazing waterfront restaurant on the Danube we've never tried before. Although not completely child-friendly, the location ensured toddlers were entertained for the duration of the meal by watching the boats and the swans on the river. We visited a nearby playground after brunch to make up for accumulated toddler energies and returned home just in time for a much-needed nap.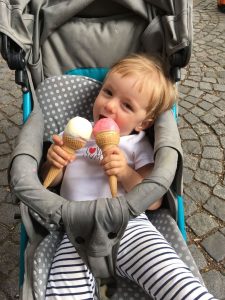 Include your toddler's friendly dessert in the picture. Whether you decide to pack sandwiches and stop instead of the meal for cake or ice cream, the choices are endless. What we do is to offer a sweet treat on both weekend days, one during our main outing and one closer to home/at our favorite ice cream parlor the other day.
Go for long strolls in your own neighborhood/town. Aimless strolls. Just like you would in a new place. Not errands, just aimless walking and checking out what is new on the hood, stopping for playgrounds, and enjoying each other's company. We do this on both weekend days, usually in the evenings after Ilinca's nap when she is less energetic but still in need of fresh air. We choose different routes each time – around the lake, in the nearby forest, on the streets.
Change your eating habits for the weekend. This does not need to poke a hole in your family budget. Just do something different than usual. If you always cook, order take-out, or try a local restaurant, street food, or tavern. If you always order take-out, go to the market and prepare a home-cooked meal together. The focus is on changing routines and spending quality time together as a family.
Share time and hobbies. As you would if on holiday, reserve time for your hobby and as much as possible share it as a family. Play sports, play cards and board games, watch a movie, paint, the possibilities are endless.
Travel-inspired weekend routine with a toddler – a typical example
A travel-inspired weekend routine with a toddler we have done recently was centered around Ilinca's interest in going for a horse-drawn carriage ride in Vienna's old city center.
As we wanted Ilinca to be as fit as possible to enjoy the new experience, we aimed to do it first thing in the morning when she was well-rested. To make sure she does not go hungry, we had a hearty breakfast at home on the balcony, which we only get to do at weekends because of time constraints during the week. We packed some water for the ride and went for the activity itself which was a total blast. The only drawback in this particular case was that one of the parents – in this case, Sinan – had to wait behind as we could not take the stroller along on the horse-drawn carriage ride.
We compensated by having a great late brunch together in the amazing garden of Cafe Diglas in Schottenstift, followed by a leisurely stroll in Vienna's old town. To keep the already tired toddler happy in her stroller we did stop for ice cream on the way, before returning home with the metro for Ilinca's (and ours) nap.
We spent the late afternoon at the nearby playground by the lake, allowing the toddler to get rid of any extra energy (the day had not been physically very demanding for her) and the parents to catch their breath. We had homemade pizza for dinner and watched a movie together with the toddler and one without her after she was down for the night.
On Sunday morning we packed our breakfast and went for a walk to the nearby forest. Here, linca could also spend time at a playground and feed the ducks and fishes on the pond the breakfast leftovers. To be honest, in our particular experience, the toddler needs at least one day of downtime at the weekend to recharge her batteries for the upcoming week. That is why we spent the afternoon unwinding at home doing some puzzles and painting together. Spontaneously, we decided to go out for a stroll, dinner, and ice iceam in the neighborhood, as the last hurrah to a travel-inspired weekend routine with a toddler.
Travel-inspired weekend routine with a toddler – conclusions
We absolutely do not want to sound as if we have discovered the holy grail of a travel-inspired weekend routine with a toddler, but rather share what has worked for us and what we are doing on a regular basis. While we do aim to offer our toddler at least one meaningful, memorable, and unique experience every weekend, we also aim to be respectful of our financial and energy resources. As previously outlined, we focus on disconnecting from daily routines and spending time together, relaxing as well as creating amazing memories.
We hope our tips will inspire you to go on and discover what works best for you as a family and optimize your own travel-inspired weekend routine with a toddler. We would love to hear back from you about the experiences and memories you are making!