It's April 2020. The whole world is under lockdown. Yet, I start a collab piece on where to eat in Florence, Italy as this seems to resonate well with my mood since itineraries planning makes little to no sense nowadays.
The reasons for this undertaking are multiple. Firstly, I've just updated our post about our driving in Tuscany road trip, which gave me a serious case of wanderlust. Secondly, food is what's on everyone's mind and food is culture….hence, yes, I do think about food a lot. Thirdly, future holidays will most likely involve more driving and slower tourism and Tuscany is within driving distance from Vienna and a very high on our list of potential places to visit after the COVID-19 mobility restriction measures are lifted.
So I've asked some of our blogger friends to give it their best shot and tell us their favorite places for where to eat in Florence, Italy. Enjoy!
Please note that this article contains a few friendly affiliate links. Shall you make a purchase through one of them, we do get a small commission at no extra cost for you. Thank you!
Where to eat in Florence – our experience
What you might or might not know about us is that we believe food and traditions are as much a part of a country's culture as art and literature are. What I'm actually trying to do here is to sell the fact that we are such foodies as a part of the culture addicts aspect of our blog and help you understand why the first thing we did upon arrival in Tuscany is to ask our receptionist at Hotel Solo Experience where to eat in Florence like locals. She recommended two amazing places, the nearby Trattoria da Guido where we had the traditional Florentine steak and Trattoria Le Mossacce.
The latter, Trattoria Le Mossacce has become our go-to place in Florence, with its warm familiar atmosphere and option to share a table with strangers who, at the end of the night, become your lifelong friends. Of all the things the new times will change, such experiences I will miss the most. The place is run for over 50 years by the Fantoni-Mannucci family in the spirit of sincere hospitality and the preservation of the local gastronomic traditions. It's the type of place where you eat what you are given and enjoy it, the options being limited to a few items every evening.
The second thing we did upon arrival was to head straight to the Mercato Centrale Firenze, which according to our previous research on where to eat in Florence came highly recommended. And it definitely exceeded our expectations!
For more information about the project itself, do check out their website, as Mercato Centrale is not only a place where to eat in Florence and other Italian cities, for that matter. It is a meeting place where food and culture come together through free cultural events and culinary delicacies and artisans! Exactly our type of place!
And while we are covering the traditional and the modern simultaneously, what we tremendously enjoyed in Florence was to purchase snacks for our daily road trips or low key dinners at Pegna, the traditional gourmet supermarket, and Eataly, an amazing gourmet chain with affordable prices.
We also went for a Secret Florence Food Tour that allowed us to experience some of the best places where to eat in Florence in the Sant'Ambrogio and Santa Croce neighborhoods, but those secrets we will not further reveal as we promised we won't to our guide Marco.
Where to eat in Florence – eateries and family-owned jewels
Note di Vino – by Veronika
In a little wine bar & shop called Note di Vino, you can have one of the best foodie experiences in Florence. The family-run enoteca features local wines with the likes of Chianti and Pinot Grigio. However, it's not just the wine that lures locals and travelers alike – it's the friendly owners Lorenzo and Letizia and the delicious platters they prepare in their little kitchen.
Meat and cheese plates are the main creations, but there are also mouthwatering bruschetti, warm homemade Panini, and various vegetable dishes. A sweet tooth can be satisfied with an order of a sweet wine and cantuccini biscuits. Anybody is welcome at the bar where people often strike conversations between tables. It helps that there's only a small space with 4 tables. You can find Note di Vino at Borgo dei Greci 4 , just on the edge of Florence's Old Town near the Santa Croce Church.
I Fratellini has always been our favorite place to eat in Florence. It is just not possible to go to the city without stopping by to try a new panino!
Although it is not a proper restaurant but a tiny spot with a counter in front of a wall packed with wines, you will be able to choose from 30 different paninis. All of them are made with fresh and local ingredients, and they cost only 4 euros each! Our favorite one? Porchetta, of course! Don't forget to order a glass of Chianti, the typical Tuscan wine. I Fratellini is very easy to find, as it is located between the Piazza del Duomo and Piazza de la Signoria.
Where to eat in Florence – restaurants
Osteria All'Antico Vinaio – by Mario
Italy is world-renowned for its good food and Tuscany, in particular, has a great tradition when it comes to gastronomy. Thus the question of where to eat in Florence, Tuscany's main city, is on everybody's lips. Whenever I visit the area, I try to have a quick lunch at "All'Antico Vinaio", one of the most famous places where to eat in Florence. Located in the center and close to Ponte Vecchio, it offers some of the best sandwiches in Italy.
Considering that it recently opened a restaurant in Milan and a shop in New York, we might be speaking of a worldwide record! In fact, we are not speaking about traditional sandwiches, but "schacciata", a sort of focaccia typical for Tuscany and Florence. They are filled with some of the very best Italian products: cheese, cold cuts, vegetables. If you are looking for an excellent lunch to eat in Florence while walking or a "passeggiata", maybe try to reach the bank of the river and enjoy it under the spring sun – where to eat in Florence has never been easier! The Osteria All'Antico Vinaio is absolutely your go-to food place in Florence!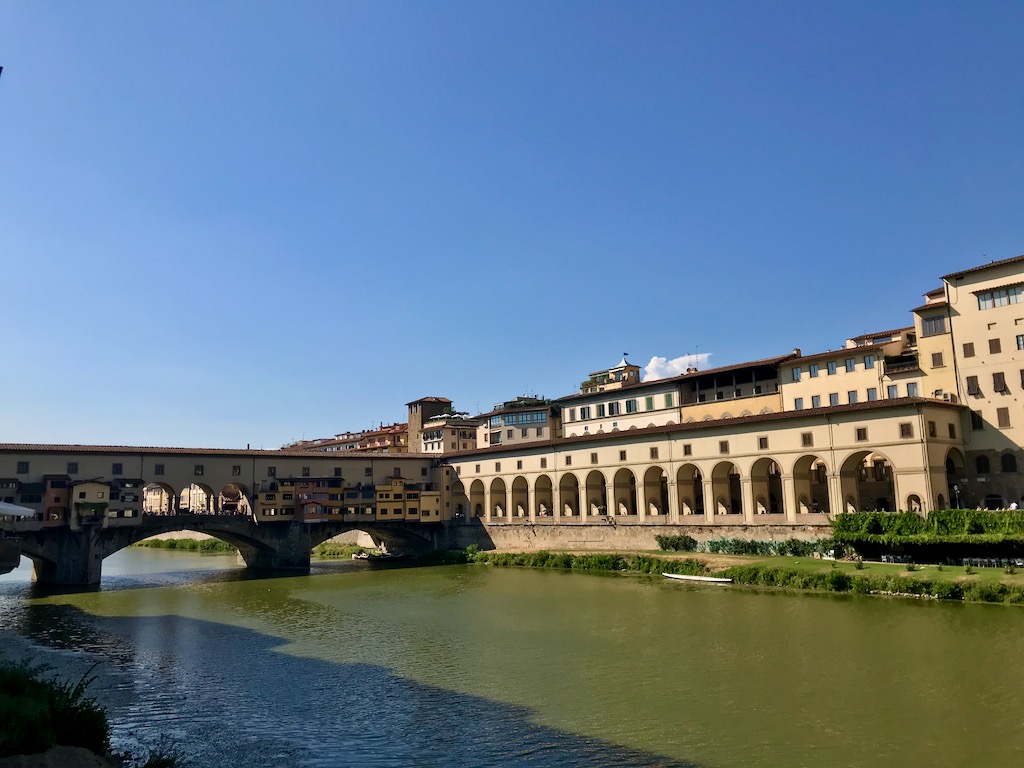 Trattoria Sergio Gozzi – by Angela
Located in the very historic center right beside San Lorenzo Basilica, it won't take you long to spot Trattoria Sergio Gozzi (Piazza di San Lorenzo 8R). The position, the always delicious flavors, and the incredibly affordable prices are all the ingredients that have been made this traditional restaurant in Florence a classic for where to eat in Florence.
Famous for its Tuscan dishes and especially popular for its Florentine steak, even if you only have one day in Florence, Trattoria Gozzi is highly recommended. A rustic interior, quite small and always crowded, some of the dishes to order if you don't feel like the huge Fiorentina steak are the pici pasta "alla carrettiera", meaning with tomatoes, garlic and chilli, the ravioli dumplings or the famous "pappa al pomodoro", tomato soup.
The restaurant is open only for lunch and closes on Sundays, so if you haven't booked, my suggestion is to arrive pretty early or you won't find a table.
Trattoria dall'Oste Chianineria Duomo – by Steph
You can't really visit Florence and leave without trying the famous Florentine steak, commonly known as Fiorentina. You're only excused if you're vegetarian! The Fiorentina steak is similar to a T-bone, and it's 3 to 4 fingers high, so it's usually shared.
One of the best places in Florence to try is Trattoria dall'Oste Chianineria Duomo, which is located close to the Duomo (but it's not as touristy as you may think).
The meat is super juicy and tender, the atmosphere is old-fashioned and the service is great. My boyfriend is Argentinian, knows a thing or two about meat, and even he said it was one of the best steaks of his life. Trust me, it's so good that I've chosen this restaurant for my 30th birthday dinner! Definitely a place to add to your Florence itinerary. But hey, don't ask for the steak to be well-done or you'll pass for the typical tourist. A Fiorentina has to be eaten medium-raw as the locals do!
Trattoria da Giorgio – by Martina
Arriving on the train in Florence during my budget Italy tour I was hungry and tired. Most of all, I was just hungry! Thankfully, I asked the host of our hotel where to eat in Florence and he recommended a restaurant for lunch that was just a short walk away. That restaurant was… Trattoria da Giorgio.
And let me tell you, the food was good (and cheap!). For only 13 euros, I was able to eat 2 courses, a side dish, and have either wine or a soft drink. My favorite meal was the spicy penne pasta, which was filling just by itself. The place overall is small and quaint, but it is a favorite for both tourists and locals. On another night, my husband and I went back for dinner and the wait was too long to get in!
Osteria Santo Spirito – by Caroline
Located in the middle of the bustling Piazza Santo Spirito, Osteria Santo Spirito is one of the most popular restaurants where to eat in Florence. One bite of the pasta here and it's easy to see why – the ingredients are fresh, the noodles are cooked to perfection, and at a great price point.
I had the pasta pomodoro (fresh tomato and basil pasta) here, and it was probably my favorite meal of my stay in Florence. It is a simple dish, but it was super fresh, and the pasta itself was cooked to the perfect al dente texture.
Osteria Santo Spirito has an extensive menu, from pasta to meat dishes, with a selection of traditional Tuscan favorites. The best part is that they also offer half portions of pasta, which I loved because you could sample different ones! They have an excellent wine list as well, with a good selection of regional Tuscan wines. As one of the most popular restaurants in Florence and a favorite among locals and tourists alike, Osteria Santo Spirito does tend to get busy, so making a reservation ahead of time is a good idea.
Where to eat in Florence – restaurants with a touch of luxury
Osteria dell'Enoteca – by Kate
Located in a quiet part of Oltrarno, a 5-minute stroll from the Palazzo Pitti, sits the charming and beautiful Osteria dell'Enoteca, home to some of the tastiest food in Florence.
Featuring classic Tuscan dishes cooked to perfection, from pasta dishes to, of course, the traditional bistecca alla fiorentina, every dish on the menu, from antipasti to dolce, is an absolute delight.
One of the most interesting features of this Florence restaurant is the wine wall: if you'd like to enjoy a bottle with your meal, instead of being presented with a wine list you will be taken to an enormous case of wine lining one wall, where a sommelier will help you choose a bottle based on your order and your preferences.
With red-brick walls, a cozy atmosphere, and delicious food, you can't go wrong with a meal at Osteria dell'Enoteca when deciding where to eat in Florence.
The restaurant is open daily for dinner, and also offers a lunch service on the weekends. An added bonus, once the question of where to eat in Florence is solved, you can enjoy the amazing Florentine skyline from several locations nearby, in the Oltrarno neighborhood.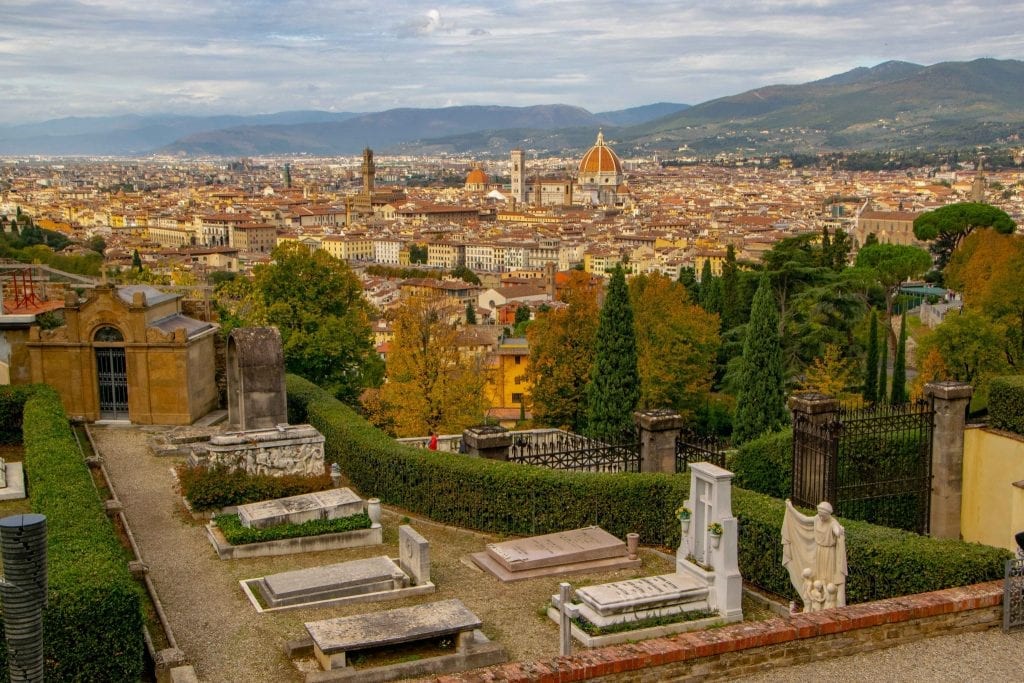 B-Roof Restaurant – by Rai
My time in Florence was the highlight of my travels in the Schengen countries, in part due to the variety and flavor of the food found all over the city. B-Roof restaurant, located on the fifth floor of the Grand Hotel Baglioni, remains one of my favorites with a good blend of colors, flavors, and aromas.
The extensive menu features traditional Tuscan dishes not limited to gnudi, carabaccia, and a variety of meat courses. The fresh fish from San Lorenzo market is a particular favorite, that is well-flavored and well prepared. For dessert, you can't go wrong with the tiramisu with macaroons and wild berries.
This special place where you can enjoy haute cuisine while admiring a spectacular panoramic view of the skyline comes highly recommended.
Ristorante Il Ricettario – by Rai
Found in between Loggia dei Lanzi and Ponte Vecchio, Ristorante Il Ricettario is not only easy to find but a great option when wondering where to eat in Florence. It makes for a great stop to fuel up in between sightseeing expeditions and provides a tasty insight into the food of the region.
Most of the meals are slow-cooked for many hours for maximum flavors, offering a wide variety of versatile, fresh, and tasty food served from lunch to dinner. The menu, inspired by a variety of wonderful and strange food combinations includes fresh homemade pasta, Tortelli mugellani, and baccalà alla livornese, just to name a few. For dessert, the Cantucci di Prato is always a winner and is a must-try.
The fancy atmosphere is matched with extensive service, with the staff being very knowledgeable on the food items and happy to recommend great choices. Highly recommended if you're interested in new flavors and experiences that are sure to leave you feeling satisfied.
Where to eat in Florence – gelato
To most of the world, Italy means gelato. The savory, Italian style ice cream that has become synonymous to the country and the dolce far niente that characterizes any escape to this amazing destination! No article on where to eat in Florence would be complete without this information! So here it is, where to find the best gelato in Florence.
We personally kept returning to Gelateria La Carraia which we discovered while in Florence and went to the classic Venchi a couple of times as well, which is one of our Italian gelato favorites.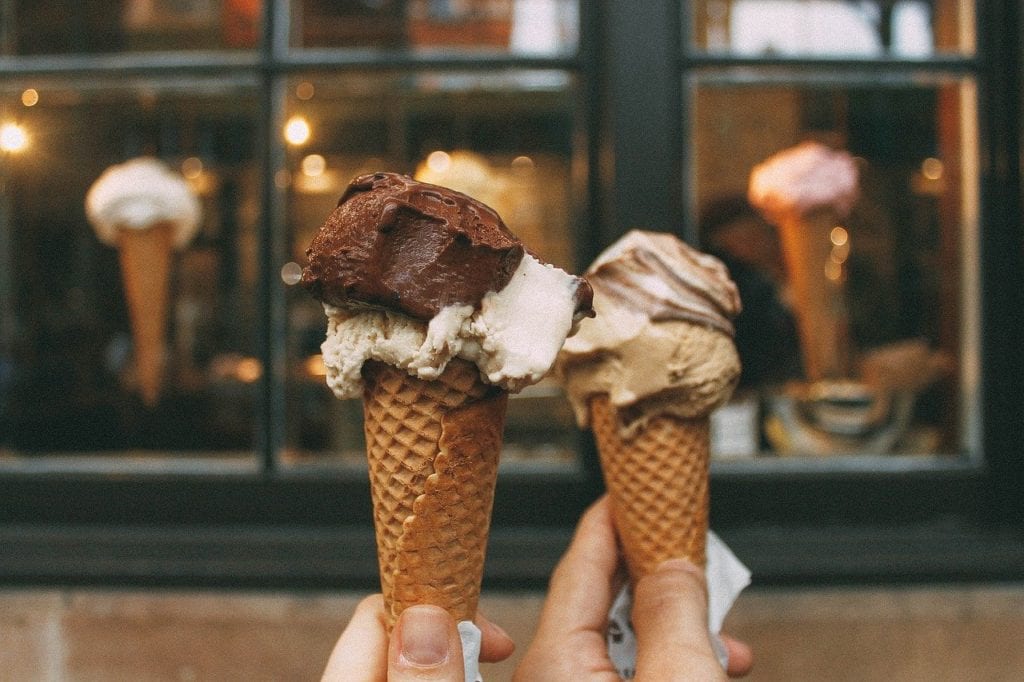 Gelateria dei Neri – by Ayngelina
You could spend an entire holiday in Italy simply sampling the gelato. But very early on, a local taught me that you should not buy the gelato that appears in large mounds underneath a glass window. While it looks tempting, it has stabilizers and is not the real thing.
Real gelato needs to be kept cold and be scooped out. And so I was thrilled to visit the traditional Gelateria dei Neri, a bit off the tourist streets but still quite central and not far from Ponte Vecchio. The staff doesn't speak English but there are lots of signs and they don't mind your bad pronunciation. They are happy to give you a few samples to try.
And while there are many classic flavors to taste, they also experiment with new ones like gorgonzola cheese or rice. I would love for them to make a gelato inspired by the Spritz cocktail.
Where to eat in Florence – coffee houses
Robiglio is a fantastic place if your sweet tooth is wondering where to eat in Florence, whether you're in Italy to visit or you're a local. If you're looking for a quick pastry, sweet treat, or a sandwich, Robiglio has you covered. It is a famous cafe first setup in 1928 by Pietro Robiglio, a baker and pastry chef in Milan and Verona. The tradition was carried on by Pietro's son and then by his grandson to establish what is now a well-established and popular café with several locations in Florence. Stop by for local specialties such as Torta Campagnola, Fruttodoro and Gallette al latte, and why not try to order in Italian too?
Wondering where to eat in Florence as you fancy breakfast in a historic coffee house in the city center? Caffè Paszkowski is your place to go!
Polish brewery turned meeting place of the leaders of literature and art turned cabaret and finally café, Caffè Paszkowski has known an interesting history. Today Caffè Paszkowski is famous for its star location, amazing pastries, and concerto dinners.
Ideal for a traditional Italian breakfast – coffee and a pastry- before exploring Florence's historic center and run through your list of 10 incredible things to do in Florence! Located on the beautiful Piazza della Repubblica, your coffee at Caffè Concerto Paszkowski might be a little bit more pricy but you get excellent quality in return. The excellent service, outside deck, and concerto diners add a touch of elegance you can only expect in Italy. Come here for a delicious Italian coffee, delicate pastries, and enjoy the theatre of the smartly dressed bartenders as they prepare cocktails.
Get a true Italian experience by ordering your coffee and pastry at the bar (far end from the cash desk) like the locals, pay at the cash desk and take a seat at the tables outside that are reserved for a self-service simple breakfast or lunch!
Where to eat in Florence – conclusion
One of the things on our to-do list for the next time we're in Florence is to sample some third-wave coffee providers such as Ditta Artigianale, Cibreo Cafe, and Cinque while making sure to pay a visit to as many restaurants listed above as possible. We are also considering an authentic dinner and opera concert experience, but we might as well just grab a sandwich and enjoy it by the river! We'll see! How do your travel plans for the future look like?