We have spent two and a half days in Seville during our Andalusia road trip with a toddler. With countless dining options available and many traditional Spanish foods to try, the question of where to eat in Seville is a real dilemma. We hoped to write this guide for a while now, but what helped us decide was our collaborator's Irina recent trip to Andalusia's main city. With her characteristic enthusiasm and love of life, Irina collected and validated several more suggestions for where to eat in Seville. Finally, we have asked other world travelers to bring their contributions to what we hope to be a comprehensive list of suggestions of where to eat in Seville for every taste and budget!
Please note that this article contains a few friendly affiliate links. Shall you make a purchase through any of them, we get a small commission at no extra cost for you!
Where to eat in Seville – food tours
Seville is a heaven for foodies and much of a complete experience of the city is based on exploring its thriving dining scene.
Our recommendations are of tours personalized itineraries customers have preferred and enjoyed, such as the Seville four hour food tour, the tapas and wine tasting tour, or the food and history tour. You can find more options below.
Where to eat in Seville for breakfast
Luckily, this chain exists also in Malaga, and once we discovered it in Seville right across the street from the Cathedral, we were irrevocably hooked. Pastries, breads, and a huge variety of breakfast and snack options make it the perfect stop at any time of day.
Address: Av. de la Constitución, 16 Open: 8.00 AM – 11.30 PM
La Cacharreria is the type of place one has in mind when thinking of where to eat in Seville. Available for breakfast, dinner, as well as for late-night adventures, it is a lovely traditional place with delicious food and an authentic feel. The staff is amazingly friendly and the prices are very affordable.
Address: Calle Regina, 14 Open: 8.30 AM – 10.00 PM, Saturday 9.00 AM – 3.00 AM, Sunday 10.00 AM – 9.00 PM
Seville's best-known coffee micro-roasters are also famous for their amazing healthy breakfast and friendly staff. The location of the shop close to the river, in the proximity of Torre del Oro and the city's parks, makes it a perfect venue. After having breakfast here it is perfectly legal to grab a second coffee to go and start off your next Seville activity, like a river cruise. You'll find our suggestions for activities below.
Address: Paseo de las Delicias, 3 Open: 9.00 AM – 8.00 PM (at weekends opens at 10.00 AM)
Where to eat in Seville for breakfast is a very important question, thus we want you to be prepared with more than a couple of options. Parceria has amazing coffee and cakes, despite its relatively restricted opening hours. Especially for those with a sweet tooth and a passion for good coffee, this is definitely the place to be or to stop for a break during your city exploration.
If you want to have a longer break for reading, check out our recommended holiday in Andalusia reading list! Enjoy!
Address: Calle Calderón de la Barca, 9 Open: Monday – Friday: 08:30 – 13:00 | 15:30 – 19:00
Saturday: 09:30 – 13:30 | 15:30 – 19:00
Sunday: 09:30 – 13:30
Where to eat in Seville – Triana
We were lucky to have chosen Hotel Monte Triana in the homonymous neighborhood as a base for exploring Seville. Since we spent quite some time exploring the authentic neighborhood of Triana, we can only recommend you cross the river and give its tapas bars, markets, and ceramic shops a try! Casa Cuesta was where we enjoyed the best tapas of our stay in Spain, while Mariatrifulca is the best-known restaurant in the area, with a terrace overlooking the river. The receptionist at our hotel strongly recommended we try Blanca Paloma for tapas or Puratasca.
Mercado de Triana
If you're looking for the absolute perfect place to eat in Seville while also getting a fantastic insight into a stronghold in Sevillano and Spanish culture, then you absolutely can't miss the Mercado de Triana. Located across the Guadalquivir River in the gritty Triana neighborhood, a visit to the Triana Market is an unmissable stop on any trip to Seville.
This market has everything from stalls selling fresh fruits and vegetables to classy wine bars, cured meat stands, and raucous tapas bars. This is the place to go if you want to pick up some local delicacies at a fraction of the cost that you will find in a typical restaurant. Foodies can discover the market during a guided tour that includes tastings!
If you want to learn more about cooking authentic Spanish and Andalucían cuisine, then you can even take a class at the Taller Andaluz de Cocina — a cooking school located within the market! All in all, the Mercado de Triana has absolutely anything a foodie could want to eat when visiting Seville!
Address: Calle San Jorge, 6 Open: 9:00 AM – 12:00 AM, Sundays 12 – 5 PM
Where to eat in Seville for vegans – La Bartola
I recently embarked on a tour that included some of the most fabulous holiday destinations Spain offers.
As a vegan, I was a little worried about what I would eat, especially because the majority of meals would be in restaurants and cured meats and seafood are such a staple of Spanish cuisine. One vegan travel hack I learned over the years is to open Instagram and search hashtags for the city I am in and vegan. I naturally did this in Seville and discovered one of the culinary highlights of my trip.
After checking out #vegan #Seville, I found La Bartola. While it does serve meat, it has a robust selection of vegan options that are clearly labeled on the menu. Even the daily special board contained a vegan tapas platter. The atmosphere was great and it offered the busy and vibrant ambiance you love in Spanish dining with a super friendly staff. I loved La Bartola because it offered a wide range of menu options that my non-vegan travel companions also enjoyed. My favorite item was the vegetable tempura sushi with porcini mushroom sauce, but their zucchini dishes are also famous. With three nights in Seville, we ate there twice because La Bartola was such a gem.
Address: Calle San Jose, 24 Open: 12:00 PM – 12:30 AM
Where to eat in Seville – tapas with a touch of history at El Rinconcillo
A visit to a tapas restaurant is a mandatory addition to your Seville itinerary. And for history lovers like us, we found a perfect tapas restaurant that guarantees delicious food and bar, with a slice of heritage.
El Rinconcillo is the oldest restaurant in the whole of Seville, the name literally means the inside of a little corner. With a beautiful emerald green tile exterior and an even unique and fun interior, El Rinconcillo is the place to order sweet orange wine with some manchego cheese. You will also find traditional, home-cooked Andalusian cuisine like pork-based dishes, as well as fresh and fried fish.
The menu is decently priced, almost at par with other local tapas bars. While you are dining here, you will notice that the bar manager tallies your bill on the bar table (with chalk pencil), rather than giving you a paper or an electronic bill. This practice is a centuries-old tradition that El Rinconcillo has been following to date.
Address: Calle Gerona, 40 Open: 1:00 PM – 1:00 AM
Where to eat in Seville – a luxury dinner at Hotel Alfonso XIII
If you are wondering where to eat in Seville with a luxury atmosphere you can't choose a better spot to dine than Restaurante San Fernando, the chic restaurant of Hotel Alfonso XIII, right in the touristic center of the city.
Built by King Alfonso XIII for the royals and VIPs attending Seville's 1929 world fair, the hotel is one of the best examples of the Andalusian architecture of mix influences, with mosaic-covered arches, a Moorish fountain, and lots of orange trees around every corner.
Dinner here is an elegant affair, with Andalusian cuisine and colorful cocktails in the interior garden of the palace. You will feel like in a movie, even more so considering that the hotel and its gardens were featured in the famous 1962 movie Lawrence of Arabia.
Where to eat in Seville city center
This cozy but spacious restaurant located in the city center offers a good blend of flavors and cultures. The menu, based on a selection of dishes made with high-quality raw items, includes fresh fish, homemade stews, local desserts, and other Spanish specialties. The cozy atmosphere is matched with extensive service, with the staff being very knowledgeable on the food items and happy to recommend great choices. Highly recommended if you're interested in new flavors and experiences that are sure to leave you with a smile on your face long after the meal is over.
Address: Calle Céfiro, 7 Open: 11:00 AM – 12:00 AM
We can count on Irina to find the best place to have a nice dinner in any city. El Pinton is an atmospheric, elegant tapas/Mediterranean restaurant, beautifully decorated with lively yellow tiles. The attention to detail and to the service, alongside the tasty dishes and appropriate wine options, make it a great choice for those wondering where to eat in Seville.
Address: Francos, 42 Open: 12:00 PM – 12:30 AM
Bar Alfalfa sits on the corner of Calle Candilejo in the heart of Seville's old town and is as authentic as you're likely to encounter on your travels, with legs of ham hanging from the ceiling and wine bottles reaching to the rafters.
The inside is tiny so you may struggle to find a table but part of the charm of eating out in busy places in Spain is to squeeze into a spot at the bar. Anyway, what Bar Alfalfa lacks in size, it makes up for with its menu. It has the usual tapas dishes that you'd expect to find in Spain but here, they're elevated to something really quite special. The manchego cheese comes with a delicious honey dip, the hummus (a nod to Seville's Moorish history) is smooth and creamy and served with a tower of toasted pitta bread.
If you're a meat-eater then you should try the bresaola – carpaccio of beef with parmesan, rocket and an olive oil and lemon dressing – while seafood lovers shouldn't miss the wok-fried noodles with chipirones (baby squid).
Address: Candilejo, 1 Open: 9:00 AM – 12:30 AM
Where to eat in Seville – a final word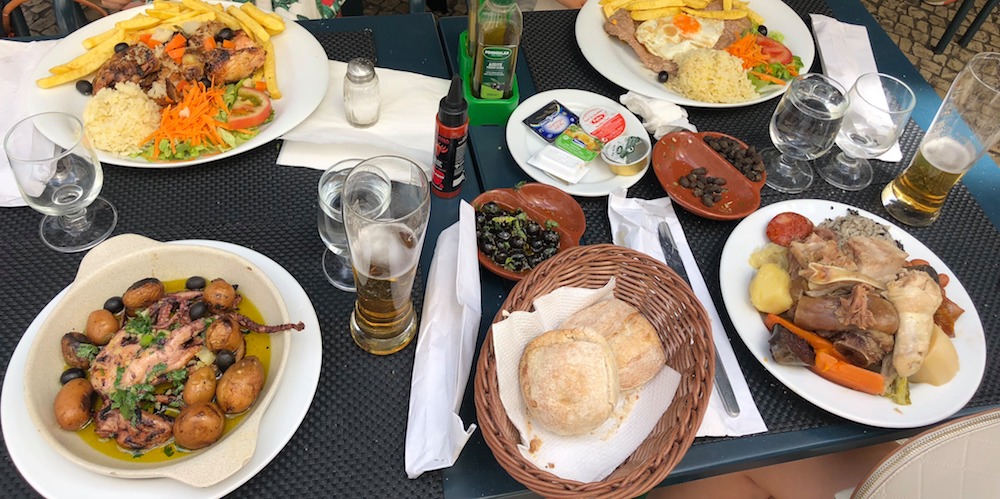 "We have spent a lovely day in Seville and we have reached the central area just after lunchtime. As we were taking pictures and heading to the cathedral, we noticed this lovely restaurant with just a few tables outside serving a nice variety of food. We were lucky to find a table in the shade and order the food.
It was surprising how fast this was delivered and how large the dishes were, despite the fact that we were quite hungry. The kids "played" safe by going with chicken breast and salad/potatoes on the side, while the adults tried some seafood and a local dish (as the waiter presented it), with strong Portuguese influences. A cold beer on the side of a hot summer day was everything you could have wished for. I highly recommend these small restaurants near the main square where you can experience both local or classic food."
What would you do in my shoes if somebody wanted to contribute to this piece and could not remember where they ate in Seville? It's what happened with turistinfamilie.ro! However, their authentic experience outlined above is so much characteristic for Seville that I decided to give them the final word, as you already saw. After all, I also do not remember the name of the restaurant where we ate a super expensive paella under the shade of orange trees! The question of where to eat in Seville is only partly about choosing the right restaurant! It is also about choosing the right atmosphere, as the answer to the question is simply: EVERYWHERE! Enjoy!