One of the most frequent questions we have received recently from our readers is: where to go in Greece? Be it for a dose of culture, a family vacation, or a romantic getaway, it seems this is a 2020 top destination for many of you. With its amazing islands, endless coastline, rich history, welcoming people, and unique traditions, Greece poses a justifiable destination dilemma. For this reason, we have put together a mini-guide to where to go in Greece for first-timers. We're positive this will be a unique travel experience for you!
Those who have visited will tell you that they will never forget the very first time they set eyes on her. Henry Miller puts this feeling into words quite succinctly: "It takes a lifetime for someone to discover Greece but it only takes an instant to fall in love with her". But with so many destinations to choose from, how does one who has never visited before go about deciding where their Greek journey begins? In the hope of deconstructing the destination dilemma a bit, here is a mini-guide for some of the top four travel experiences that will give you a meaningful introduction into the fundamental splendor of Greece. Do not forget to take along a great camera for travelers to immortalize your trip! It will be worth it!
Please note that this article contains a few friendly affiliate links. Shall you make a purchase through any of them, we get a small commission at no extra cost for you! Thank you!
Where to go in Greece for culture & heritage lovers – Athens city

The capital city of Greece is an enchanting place full of thrilling contradictions. It has a magnificent ancient charm to it that is harmoniously intertwined with a contemporary, modern side. It should definitely be a top priority for culture addicts asking themselves where to go in Greece. Athens has the largest concentration of ancient landmarks that have become synonymous with Greece. The iconic Acropolis, the ancient citadel that has been watching over the city for centuries, is bathed in the immaculate light of the glorious Greek sun by day and in the seductive silver rays of the moon by night. At the foot of it is the astonishing Odeon of Herodes Atticus, an ancient theatre made entirely out of marble, that has been hosting performances since the beginning of Greek civilization. Just considering the age of these structures will fill your soul with awe; they are over 2,500 years old. For the full ancient Athenian experience, you should also spend a few hours exploring the amazing artifacts of the Acropolis Museum, located opposite the two aforementioned sites, as well as the Ancient Agora situated on the other side of the Acropolis. All of the above are within walking distance, so discovering the top sites by foot is an easy and doable feat. One other sensational attraction for those who wish to delve further into the ancient heritage of Greece is the National Archaeological Museum, considered to be one of the world's most comprehensive collections of Greek antiquity.
End the day strolling through Plaka, the city's historic neighborhood. Get lost in the narrow cobblestone streets lined with shops selling jewelry, clothes, local ceramics, and handiworks. Sidewalk cafes and family-run tavernas stay open until late, so you can enjoy a beautiful evening outdoors. Even for those who do not eat meat, there are plenty of vegan restaurants in Athens. For staying in an area that allows easy access to the historical center and also boasts Acropolis views from its rooftop, consider the Best Western Candia Hotel in Athens.
On our list of things to do in Athens on our next visit are a sunset trip to Cape Sounio and the Temple of Poseidon, and a day trip to Delphi and the beautiful village of Arachova, which we did not get a chance to explore on our first trip to the area. However, there are plenty of other amazing things to do in Athens, so do factor in a stay of at least a few days.
For our bookworm readers, we have collected below a list of our favorite books set in/about Greece! Enjoy!
Where to go in Greece for family moments – Monemvasia in the Peloponnese

Monemvasia is a favorite destination within the magically diverse Peloponnese. A great region in Greece's mainland, it is a place steeped in medieval history. Families especially will love a getaway to Monemvasia which embodies the best of the Greek countryside, laced with all the scents and sounds of old age rural life. The highlight of the area is a fortified castle town, perched upon a rock that is connected to the rest of town by a narrow causeway. Built during the Byzantine era, during a time when Greece saw many sieges and conquests, visiting this site will flood you with feelings of poignancy. It is emotive for adults while children can revel in the indescribable feeling of being part of a fairytale. Historic manors amidst verdant landscapes, where views go as far as the eye can see, are the perfect family holiday setup. It is for this reason that Monemvasia is the answer for families asking where to go in Greece.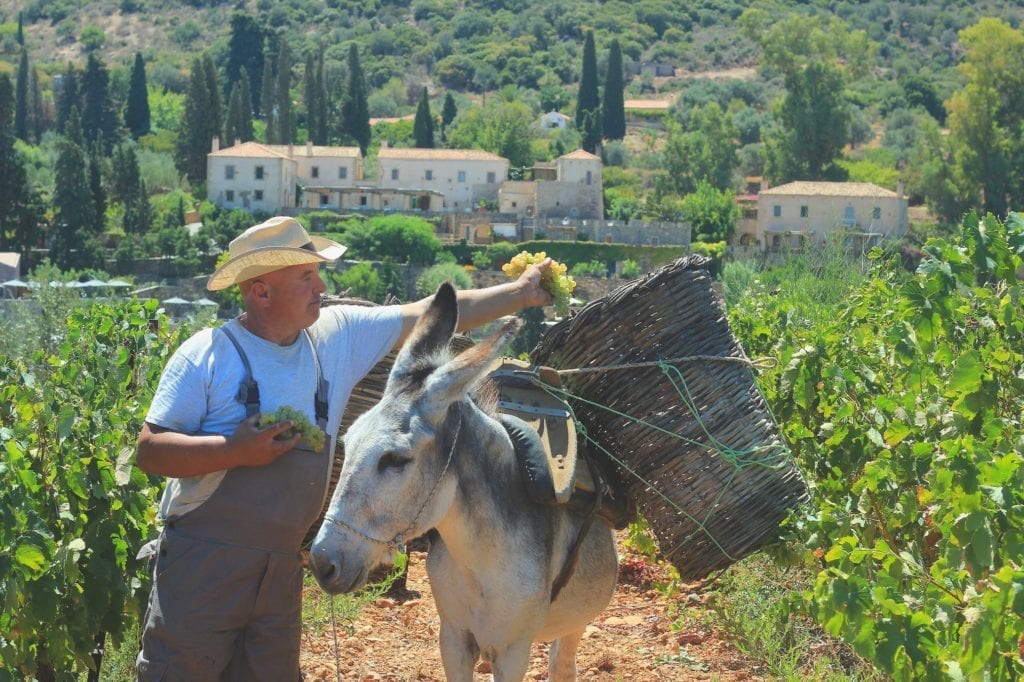 The luxurious, renovated medieval mansion of Kinsterna Hotel in Monemvasia welcomes you to its sensational estate and promises a vacation that will set the bar for the rest to come. Apart from amazing amenities and facilities that will make a family holiday both comfortable and pleasant, the area is fit for taking to the outdoors and engaging with nature and local customs. Trekking through vineyards, horse and donkey rides, participating in traditional bread making, cycling around the expansive estate grounds and its surrounding areas, are only some of the year-round experiences to be enjoyed. Depending on the season of your visit, you may be able to witness various harvesting techniques for grapes, olives, and honey.
Where to go in Greece for the hopeless romantics – Santorini

Any couple considering where to go in Greece should definitely include the mesmerizing Santorini on their list, especially if they are after a romantic island escape. There is no other place like it in the entire world, born out of a natural calamity that has created a raised plateau that acts as a balcony to the Aegean Sea and there are many things to do in Santorini. The settlement of Fira is the most central town on the Santorinian Caldera where most of the shops, restaurants, and bars are located, positioned right opposite the notorious volcano. The most popular spot in all Santorini is undoubtedly Oia, the most photographed area of the island. It is the closest point to direct sunset views and where most of the crowds will clutter to get a glimpse of this natural spectacle. A tour of the traditional villages with a stop in Oia for the sunset is the best way to check this activity off your list!
However, it is possible that when on a romantic getaway the last thing you want is to be overborne by people and noise. In this case, you should choose a quieter spot on the southernmost tip of the crescent shape of the island. Astarte Suites in Santorini are perched atop the cliff in the area of Akrotiri (which means cape) where you can indulge in privacy and tranquility also enjoying some truly phenomenal views that include the deep blue sea, the volcano, the Caldera's colorful strata, and the stark white settlements of Fira, Imerovigli, and Oia.

Where to go in Greece for the adventure seekers – sailing the Aegean

Greece is a place that is blessed with so much sea. Apart from a plethora of islands (over 200), the mainland is positioned in a way that creates a massive coastline. Together, these two elements make it so that a sailing holiday in Greece is almost imperative. Good news for those who are not entirely comfortable with standard sailing, which often entails a bit of swaying over the waves at open sea. Even better news for those who don't necessarily like to travel on a typical cruise ship with a whole load of other people. A boutique cruise is an answer to both these issues. The adventure seekers who love to be at sea but value comfort and convenience should consider Variety Cruises in Greece that go to various destinations including spots on both the islands and the mainland.
Sailing is the quickest way to cover large distances with the additional benefit of just boarding once while you will be taken to over 10 incredible places. In this case, your destination dilemma is already partly sorted out. There are several predefined itineraries to choose from depending on your interests. However, there is one in particular that will reveal the lesser-seen side of Greece with a stop at Kusadasi too (an ancient site on the western front of the Turkish shore). The cruise can be just for leisure, but for those who wish to get to grips with the historic heritage of each place, there are optional excursions available.
As the end of the year draws near and we start ourselves to make travel plans for 2020, Greece is definitely a destination you'll hear more about. Spoiler alert, so are Antalya, Istanbul, and Izmir! Stay tuned! Where are you planning to holiday in 2020?