One year after we put this amazing country on our bucket list, we are finally able to set up a complete Qatar itinerary. With the help of a local, we have organized the information such that you can spend 1, 2, 3, or 4 days in Qatar by simply following the suggestions for the respective number of days from our article.
For those visiting Qatar with children, we have additionally hosted a guest post on Doha with kids with more activities suggestions.
Please note that this article is not sponsored and does not constitute an advertisement. It does contain a few friendly affiliate links. Shall you make a purchase through any of them, we will get a small commission at no extra cost for you. Thank you!
Qatar itinerary – a bit of background
I am not sure if I always had this habit or it kind of developed along with the blog, but every time I meet somebody new I automatically question them about the place they call home. So when I got the opportunity to find out more about tourism and things to do in Qatar, a place virtually unknown to me, I could not help it and set up what turned out to be a series of articles on this amazing country.
Of course, this also prompted the acquisition of a Qatar-themed reading list in preparation for what will surely be a cultural family travel Qatar itinerary.
I hope you know me well enough by now not to be surprised by my thoroughness and curiosity when it comes to a new destination. Here's what I think is important to know about Qatar.
It is a peninsular Arab country, situated at the Persian Gulf between the United Arab Emirates, Saudi Arabia, and insular Bahrain. Its dramatic relief of arid desert and dunes that roll down to the shoreline of the Persian Gulf is mostly flat (highest altitude is 103 meters).
The official religion is Islam, the country being ruled by a mixture of civil and Sharia (religious) law.
It has the highest per capita income in the world, and it is regarded as the most advanced Arab state for human development. Its booming economy is due to the world's third-largest natural gas reserves and its oil fields. In 2022 Qatar will be the first Arab state to host the FIFA world cup championship.
Archaeological evidence suggests a rich and continuous habitation of the peninsula up to the 7th century AD when the conversion to Islam took place in the area. When Portugal took over the region in the 16th century the local prince Al-Hasa chose Ottoman leadership instead of the Portuguese one. World War I and the dissolution of the Ottoman Empire brought a British protectorate until 1971 when the country finally became independent. Nowadays Qatar is a unitary constitutional monarchy.
Tradition and modernism – interview with a local
So let's find out more about things to do in Qatar and how tourism looks like in this country from Serban Spirea. He is the type of person who enjoys his job and you can feel this in the open, dynamic, and friendly way in which he answers questions, be them related to real estate or not. He is a young entrepreneur from Romania who opened in 2015 FGREALTY one of the fastest-growing luxury real estate companies in Qatar.
What do you think is the main incentive to visit Qatar?
This small country blends together the mystery and the culture of Muslims, the original Bedouins, and modernism brought by wealth and a large number of expatriates that inhabit it nowadays. Out of 2.7 million inhabitants, over 2.3 million are foreigners, and thus the face of the country changes at a fast pace, while it is at the same time deeply rooted in its centuries-old traditions. Expats quickly learn to follow a certain code of behavior out of respect for the Muslim population here. I find this a very fascinating cultural experience.
Which aspect do you personally find the most intriguing?
Imagine that only 50 years ago the country was inhabited by tribes of nomadic Bedouins who lived off their farms and relied on diving for natural pearls for their livelihood. Their culture was mostly orally transmitted. Performances of poetry/stories accompanied by traditional music with tambourines and small drums as well as original dances can still be appreciated every Friday (the free day in Qatar). Nowadays, Qatar is one of the fastest developing countries in the world and this can also be seen outside the real estate field. For example, alongside pearls, jewelry, and traditional Muslim handicrafts (carpets, textiles, calligraphy), contemporary art pieces are being traded very successfully here.
Is this why you decided to invest in Qatar?
New cities develop at a record time here, and the driving force for it is twofold. On the one hand, oil and natural gas are the main sources of income and this has drawn many expats here in search of work. Real estate in Qatar flourished as a consequence. Even if foreigners are not allowed to buy land in Qatar, there are large and amazing developments built for expatriates, as there are special real estate development projects.
On the other hand, I decided to invest in Luxury Real Estate as more and more tourists are interested in what Qatar has to offer. The most famous example is the Pearl in the capital Doha, one of the most fabulous contemporary architectural projects, expected to welcome over 45,000 people up to the end of this year (a.n. 2019). It is a man-made island with buildings that blend the Arabian architectural zest for opulence with state-of-the-art modernity and the first land to be available for freehold ownership by foreign nationals.
Qatar itinerary– practical information
What should one consider when planning a trip to Qatar?
The best time to visit is in spring or autumn. Qatar has dry, hot weather, but during these seasons the temperatures are more pleasant. You should keep in mind that the workweek here is from Sunday to Thursday, and special opening times operate during the Ramadan fasting period. In solidarity with those fasting, you should only eat in public before sunrise or after sunset during Ramadan.
Qatar welcomes tourists and the citizens within 37 countries can travel to Doha and stay in Qatar for 30 days only passport based. The list of countries that can travel to Qatar without a travel visa is here.
What should one expect upon arriving in Qatar?
Qatari are welcoming foreigners into their country, being one of the most inclusive countries on the Arabian Peninsula. Actually, a large number of expats is proof in this sense. However, a dress code must be obeyed in order to show respect to the locals. The general rule for both men and women is that your shoulders and knees should be covered in public spaces. As long as these rules of decency are followed, Qatar is a safe country even for solo female travelers.
Modesty and decency in mind, you can enjoy yourself as you would in any European country. The majority of locations accept credit card payments, with prices being in the range of those in Western Europe. Alcohol can be purchased only in places that hold a license, but generally, hotels do serve it. There is a wide range of high-quality restaurants and cafés. My personal recommendations are Leila restaurant, Ethiopia restaurant, and Kuminous Café.
For more places to eat in Qatar check out this food lover's guide to Doha and the amazing reviews from Time Out Doha.
And wherever you go, take a taxi. As gas is so abundantly available here, this is the safest and most affordable means of transportation if you do not have your own car.
Where to stay in Qatar
The capital, Doha, is the main touristic destination in the country and where most people decide to base themselves while exploring Qatar.
Located in Al Wakrah, 9 km from the airport and 14 km from Doha, Souq Al Wakra Hotel Qatar By Tivoli pampers its guests with a fitness center, several restaurants, seaside access, a garden, and complimentary breakfast.
The luxurious Kempinski The Pearl, located on the pearl-shaped artificial island for which Doha is famous, is ideal for families who want to enjoy the many swimming facilities.
Across from the shores of the Arabian Gulf sits one of Doha's newest five-star hotels – Saraya Corniche Hotel. It offers unparalleled luxury and plush comfort in the proximity of Doha's most famous landmarks such as the waterside promenade (Corniche), traditional market (Souq Wakif), and the Museum of Islamic Arts.
For those looking for accommodation in the proximity of the airport, several affordable options are available, such as the Premier Inn Doha Airport.
1-4 Days Qatar Itinerary
The comprehensive Qatar itinerary below is based on hours of research following the interview with Serban. These included discussions with other travelers, web searches, as well as countless reading hours. However, we will keep improving it up to the last minute before our visit, thus please provide us with as much feedback as possible! It is highly appreciated!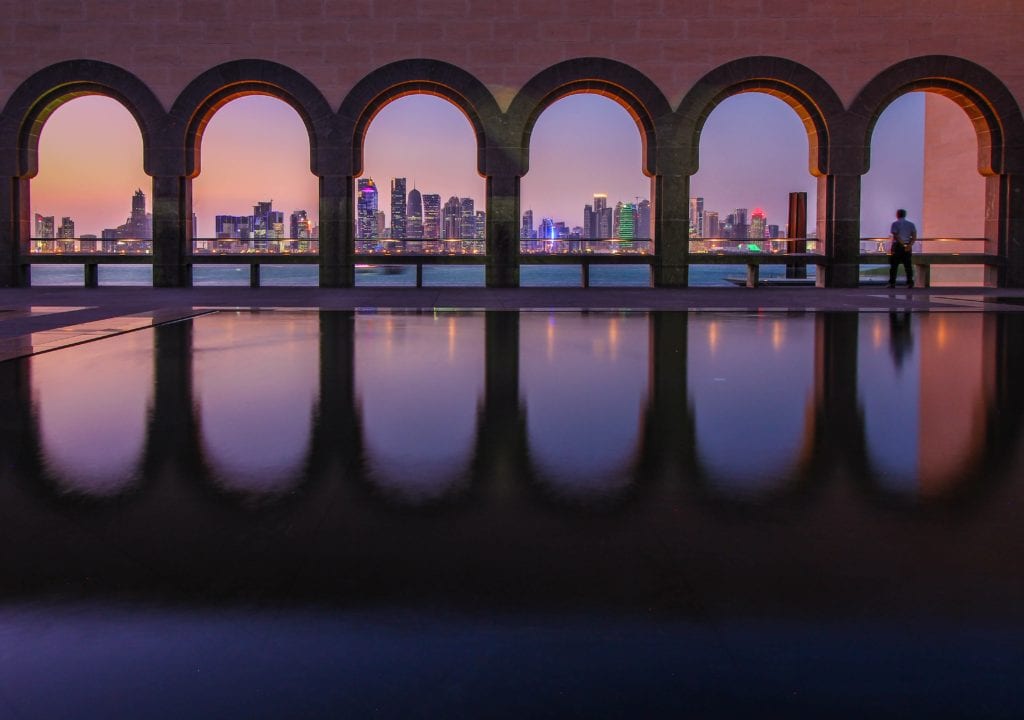 Qatar itinerary day 1 – Doha
Any visit should start with a walk on the Corniche, the city's most famous waterside promenade. You can admire the traditional dhows boats alongside very modern yachts in the blue waters of the bay and take very cool photos of the West Bay business district from here. Make sure to come back here on any evening of your stay for the opportunity to admire the Doha skyline with neon lights, a sight that gives New York's skyscrapers a run for their money.
You could at this point consider a city tour that includes a wooden dhow boat ride or a double-decker bus ride with a complimentary dhow tour to get a panoramic impression of the beautiful capital of Qatar!
If you walk on along the Corniche, you will reach the famous Museum of Islamic Arts, that features the most exclusive collections of art from the entire Islamic world. Entrance to the museum is free and on your way out you should pay a visit to the beautiful MIA park that surrounds it. A Saturday afternoon market takes place here where many local products are sold.
At this point, it's up to you if you decide to enjoy the traditional open-air market Souq Wakif for the afternoon or spend the rest of the day exploring other excellent museums such as the Qatar National Museum and the Msheireb Museums. These are located in four traditional homes and contain cultural and historic exhibits. Across the street is the Alkoot Fort, 1920s military fort now serving as a museum with Qatari handicrafts, photos, paintings & more.
Make sure to allocate enough time for the Souq Waqif traditional-style market as this is the place to find spices, jewelry, handmade handicrafts, textiles, and local souvenirs. Here you can enjoy the traditional labyrinth bazaar with small shops whose wares tumble out on the pavement. If in need of a break, you can stop at one of the many excellent shisha lounges. It is also a pretty good choice for dinner. Sit at one of the pavements tables of Al Tawash restaurant and enjoy the traditional Qatari dishes while taking in the pulse of the market. Parisa Souq Waqif is another option for dinner – a popular Persian restaurant with an amazingly decorated interior and very delicious food.
Qatar itinerary day 2 – Doha – The Pearl
Spend the morning diving a bit more into Qatari culture. Depending on how much you've covered the previous day, consider a 4 hours cultural tour of Doha, or make sure the Grand Mosque and the Katara Cultural Village are on your list!
Katara Village is a cultural complex built to resemble a traditional Qatari village, named after the historical name of Qatar prior to the 18th century. Its highlights include the open amphitheater, opera house, cinema, art gallery, and even a children's cultural center.
The newly built Grand Mosque, open in 2011, is an architectural fusion of traditional Arab style and modern features, including as many as 28 large domes. One of the sights usually overlooked by visitors, it is definitely worth a stop!
Your next stop is The Pearl, the country's most impressive architectural project. Do not miss the Qanat quarter, a waterfront village inspired by Venetian architecture. Here starts an amazing 4-hour food tour that gives you an overview of the eclectic character of The Pearl, from the luxury Porto Arabia yacht harbor to the busy center of Medina Centrale! Enjoy it!
Qatar itinerary day 3 – secrets of the desert
Take a day trip outside of Doha. There are two places that immediately come to mind. The Sheikh Faisal Bin Qassim Al-Thani Museum – with objects collected by the Sheikh over the years, from vintage cars and a traditional Bedouin tent to old credit cards. A guided visit is recommended to make sense of it all. You can couple it with a stop at the camel racing track in this very interesting organized tour!
About an hour's drive from Doha, the only UNESCO World Heritage site in the country is Al Zubarah. This is an archaeological site where, in an interactive museum, you can get a glimpse into the old way of life of the local nomadic tribes who lived off pearl diving before the discovery of oil in the area. A comprehensive and original guided tour of North Qatar covers it alongside other notable sights in this part of the country.
The most popular activity is, however, to take a desert safari to Khor Al Adaid and there are plenty of tour operators who offer them. Camel riding and Bedouin-style meals are often included for a more authentic experience.
Qatar itinerary day 4 – Doha – a few more secrets
Make a worthwhile stop at the National Library, one of the country's most impressive cultural achievements. Besides plenty of books in Arabic and English, there's also a heritage historic book collection in Arabic that you can visit.
Shopping is one of the most important things to do in Qatar. You can now head to the Villagio Mall, a luxurious shopping center inspired by the architecture of an Italian hill town that even features an indoor canal with gondolas.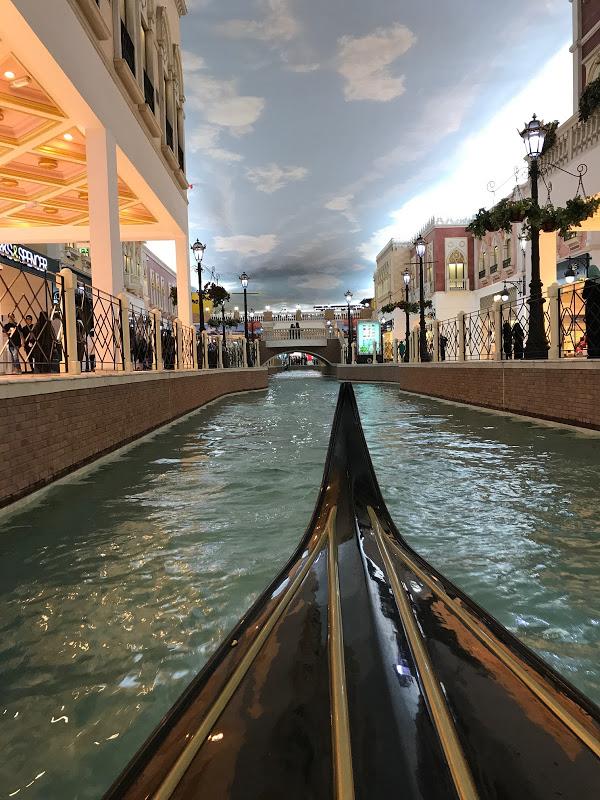 Hopefully, for a full experience of Qatar, you'll still fit in a stop at Doha's equestrian center Al Shaqab. Dedicated to the famous Arabian horses, this facility is committed to preserving Qatar's heritage by offering the highest standards in horse welfare, breeding, and equine education. Take a guided tour of their extensive and impressive grounds! It is totally worth it!
End your day in style with a dinner at an amazing Doha restaurant. The Al Hubara Restaurant at the Sheraton Grand, Nobu, or Al Mourjan Restaurant on the Corniche are all elegant, outstanding places for a memorable end of your Qatar itinerary!
Qatar itinerary – the challenge!
Those of you who read us regularly know the drill! We are starting off such itineraries long before the actual trip, collecting information, perfecting routes, asking advice. These articles are meant as useful resources for both us and our readers, as well as a platform to exchange information, receive feedback, and more useful tips! Thus, please feel free to let us know your thoughts, ideas, suggestions, and tips for a successful Qatar itinerary in the comments! We are always happy to hear from you!