Doha with kids – top 8 unique family activities in Qatar
Our friends from travelista.ro have explored Doha with kids and are sharing some of their experiences with us. 
Sometimes we like to explore destinations before we visit them. To some extent, this has to do with our desire to lead a travel-inspired lifestyle and to integrate travel into our daily routine. On the other hand, we are always on the lookout for possible future trips for which we like to have all the information at hand. Because I've written before about tourism in Qatar and we are tempted to travel there, we decided to ask fellow bloggers at travelista.ro to give us some ideas of activities in Doha with kids.
Note – this article contains a few friendly affiliate links. Shall you make a purchase through any of these links, we get a commission at no extra cost to you! Thank you!
Travelista.ro are a family of four explorers, two adults and two children, who have so far visited 83 countries together. Each year they make a travel resolution as a guide about what they would like to see in the next 12 months, from "no weekend in Bucharest" to "12 countries in 12 months". We leave you in their company in the following paragraphs! Enjoy!
Doha with kids – why choose this destination?
Doha is one of the access gates to a range of destinations in Asia or further in Oceania and one of the most friendly places to small travelers. Another destination that's definitely on our list is Dubai Parks & Resorts. There are quite a lot of misconceptions about the capital of Qatar, so hopefully, this article will inspire you both confidence and curiosity!
If you are flying into Doha, Qatar do not hesitate to spend some time exploring this Arabian Peninsula country, it will definitely be worth it. In addition, Qatar Airways offers many facilities for the most interesting stop in Doha, from free city tours to accommodation included in the price of the air ticket or extra days for a stopover; I suggest you check beforehand what applies to your ticket.
Even for a short layover, there are excellent organized tours that show you the main sights of Qatar's capital in a few hours and bring you back to the airport on time.
And if you are in transit through Doha with kids, we have 8 suggestions of fun and interesting activities for the whole family. But first, some practical aspects.
Doha with kids – practical aspects
Accommodation in Doha with kids
Doha was the first stop for us in a spring adventure through four Asian countries. Due to the fact that the water in Qatar is already warm in April, we wanted our first activity to be an aquatic one, so choosing a beach hotel was mandatory.
It took very little consideration to wholeheartedly choose Kempinski The Pearl, located on the pearl-shaped artificial island for which Doha is famous. In the morning the sea awaited us quietly and without waves, perfect for testing the available entertainment options at the hotel such as paddleboards or inflatable climbers and toboggans. Before leaving we also tried all the pools and, for lunch, one of the hotel's restaurants.
Driving in Doha with kids
Since we were flying out very late, we rented a car from the airport to have freedom of movement even after checking out from the hotel. Doha has a good motorway infrastructure, similar to Dubai, with wide roads and lots of lanes - driving here does not pose any difficulty. However, most of those who make short stops in Doha prefer to book a private transfer with a driver from the airport to the hotel, at a very affordable price.
6 Activities in Doha with kids
Doha with kids - enjoy the seaside
Doha has countless beaches with fine sand and smooth gradual entry into the water. We went with the children to The Pearl, the artificial island downtown, Qatar's replica of the artificial islands in the United Arab Emirates.
Doha with kids - visit the Museum of Islamic Art
The Museum of Islamic Art in Qatar is one of the most beautiful museums I have ever been to. Not only is the collection of exhibits showcasing the entire Islamic culture in a fascinating way, but also the architecture of the museum is breathtaking. Its position, on the Doha Corniche, overlooking the impressive skyline of skyscrapers is unforgettable. This museum has practically become the symbol of the city and a visit here is a cherished memory for both children and adults!
Doha with kids - take a bus tour!
Especially for short layovers, a hop on hop off tour of the city is recommended. It will show you a panoramic view of the metropolis and the little travelers will not get too tired! In addition, the hop on hop off buses in Doha are brightly colored, which will impress and attract small visitors.
Doha with kids - take a gondola ride
Like Macau, Las Vegas, Baku or Singapore, Doha has a shopping center built to mimic Venice. Thus, of course, you can take a ride on the iconic gondolas. My children were very pleased with this activity!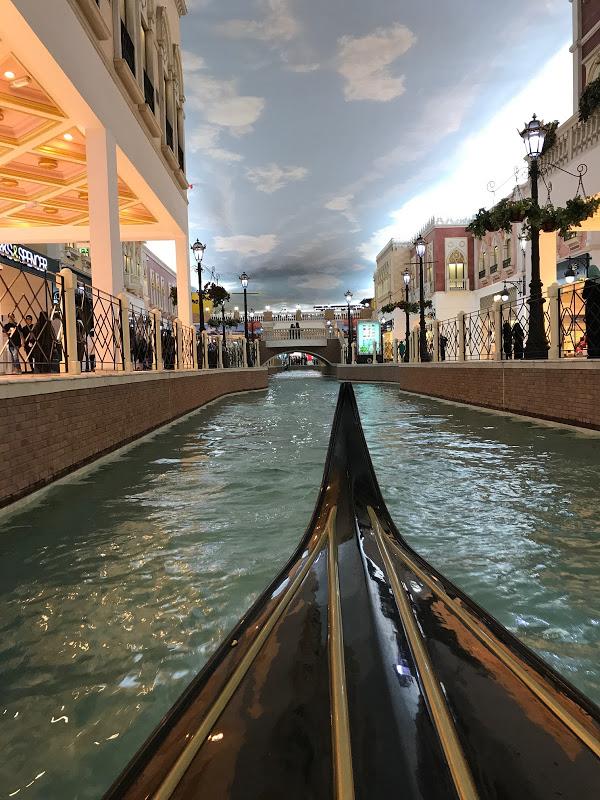 Doha with kids - walk along the Corniche
Unlike Dubai, which does not necessarily have a seaside promenade, but similar to other Arab cities (Muscat, Casablanca) Doha also has a long corniche overlooking the skyscraper district, located right next to the mosques and souq (the local market). From here you can also take a ride with a traditional wooden boat and the sunset is the perfect time to be here.
Doha with kids - discover the airport playgrounds
Doha Airport is one of the most interesting airports in the world. The maximum point of interest of the children will be the fantastic playgrounds, true modernist sculptures, created by Tom Otterness.
Doha with kids - 2 ideas for activities outside the city
For those who have a little more time available, there are excellent half-day tours, organized flawlessly, of which we recommend two in particular.
This private 4-hours tour can be booked to start from the airport or from the hotel. You will drive through endless sand dunes, visit the inland sea of Khor al Adaid on the border with Saudi Arabia, take extraordinary pictures, and ride a camel!
Mysterious cities and sculptures in the desert - what could be more intriguing for kids? Explore the desert city where Sons of Wolves was filmed and discover the western part of Qatar in this four hours tour that can start at the airport or ar your hotel.
If you need help planning your Qatar/Doha with kids itinerary, both the teams at Dream, Book, and Travel and at travelista.ro are at your disposal for advice! We are also looking much forward to hearing from you in the comments below!