We have recently hosted a guest post on romantic things to do in Rome and, as usual, I immediately wondered if this amazing city is suitable for a cultural family getaway. For recommendations of activities to do in Rome with kids, we have asked fellow travel bloggers to provide us with their best tips. These are their top recommendations.
Please note that this article contains a few friendly affiliate links. Shall you make a purchase through any of them we get a small commission at no extra cost for you. Thank you.
Exploring Rome with Kids – pick the right hotel
In order to easily reach all main attractions, your hotel should be centrally located. Our personal recommendation from years of planning personalized itineraries for our readers is Charme Spagna Boutique Hotel – an amazing good value for money accommodation that offers two terraces, breakfast and dinner options (you'll thank me later when you don't need to worry to feed an exhausted kiddo), as well as elegant, spacious rooms 350 meters away from the Spanish Steps.
Activities in Rome with kids – start with a hop-on hop-off tour
by Astrid of The Wandering Daughter
For families who only have a limited amount of time to explore Rome with kids, taking a hop-on hop-off bus tour in Rome is an efficient way to soak in the sights in one or two days. These tours offer several fixed routes throughout the city. And they stop at many of the popular tourist attractions like the Colosseum, the Trevi Fountain, the Spanish Steps, Circus Maximus, and the Vatican City.
There are several different companies that offer a hop-on-hop-off style tour. These include BigBus Rome, GreenLine Rome, and Grayline's I Love Rome Hop On Hop Off Panoramic Tour. They range in price from 18 euros to 39 euros.
Families can book tickets starting from 5 hours up to 72 hours, but it's best to buy at least a 24-hour ticket to ensure you have time to see the sights. You can also bundle these tickets with skip-the-line tickets to popular attractions throughout the city. This is a good way to save money on attraction.
The best way to do the hop-on-hop-off tour is to do one full loop to orient yourself with the layout of the city. A loop usually takes 60 minutes to complete. Once you've done a loop, you can choose what stops you want to explore deeper.
The double-decker buses run every 10-30 minutes, depending on the bus company. So if you get off at a stop, you can always catch a later bus to continue on the route. Families can choose to sit in either the enclosed lower level or the open-top upper level.
Another helpful tip for doing the hop on hop off bus tour with kids is to limit the number of stops you take. This ensures that you have ample time to explore your chosen sites before your time on the bus tour runs out. Additionally, for families with younger kids, you can use your time on the bus for rest or have some downtime.
For first-time visitors to Rome, taking a hop-on hop-off bus tour is a great way to get to know the city. So book your tour, sit back, and enjoy the ride!
Activities in Rome with kids – continue to The Colosseum
by Haley of HaleyBlackall.com
Any Rome itinerary, including one with little explorers, needs to include a visit to the iconic Colosseum. Once an arena for gladiator contests, exotic animals, mock naval engagements, and even executions, the Colosseum is now one of the most frequented attractions in all of Italy. Full of history, from over 2000 years of existence, it's a great place to take the kids on your next trip to Rome.
Start by purchasing your tickets as far in advance as possible. Pre-arranged family tours (including interactive iPads) are available and highly encouraged as the kids will be more engaged in the history of the Colosseum. At a minimum, purchase an audio tour.
Before making your way to the Colosseum, arrange to take a carrier rather than a stroller, if you have kids of this age. Due to crowds and multiple levels, wheeled strollers can be difficult to maneuver. Don't worry, if you absolutely need to, there are elevators on each floor to accommodate you. Also, due to security concerns at the Colosseum, large bulky bags are generally refused at the door (no large changing bags!). Opt for a smaller, more manageable purse with a few essentials. Bring water, as it is not sold inside the attraction.
After taking a walk around the outside of the Colosseum, head inside. Beware of the 'gladiators' posing for pictures outside. This is now illegal in Rome but if they happen to show up, they will charge you an exorbitant price. Visit the underground level where they stored most of the props for the theatre. Here you can also view a re-creation of the hoist that lifted elephants and lions into the arena. The tour guide will entice your children with exciting stories of gladiators and history but do be aware that some stories can be gory, so redirect your kid for a few moments if they are sensitive.

The most impressive part of the Colosseum for the kiddos is the belvedere. Climb up top to witness epic views of Rome, with the Forum and Palatine Hill up close and St Peter's Basilica in the distance. The cost of admission for children under 18 is free of charge. Arrive early morning to make the most of your visit without the crowds and spend 1-2 hours exploring.
Activities in Rome with kids – climb St Peter's Basilica
by Ania of The Travelling Twins
St. Peter's Basilica is one of the most famous places in Rome for tourists to visit. It's located in the center of the Vatican – the smallest country in the world.
St Peter's is a symbol of the Catholic church and one of its most important places. It was built on the tomb of Saint Peter the Apostle and it's a must-see sight for any visitor to Rome. If you are visiting Rome with kids, however great and magnificent the basilica is, after some time your kids may be a bit unimpressed and bored. How to trick your children to see yet another church in Rome? Tell them they can climb on the roof of the biggest church in the world.
Entry to the basilica is free, but if you want to climb the Dome, there are two options: climbing all the way up, which costs 8 Euros (free for kids) or taking the elevator for 10 Euros. Though don't think that taking the lift would save you from climbing the steps, as even if you take the second option, you need to climb around 270 semi-curved steps, which are on the side of the Dome. Climbing them gives you the opportunity of realizing how big the Dome is. And the view is stunning.
If you are visiting in the summertime, a good time to visit is early morning. Firstly, the basilica is still quite empty before 9 AM, and your family will have the pleasure to explore without standing in the queues. Secondly, the Dome is better enjoyed before it gets too hot. After the climb up and down, all of you should look for is pizza or ice cream.
Activities in Rome with kids – picninc in Villa Borghese
by Cynthia & Alexander of Travel your Memories
When looking for a Rome itinerary most of the time visiting Villa Borghese isn't included because most of the activities are focused on the historical center. This is the largest park in Rome where you can enjoy flowers, grass, trees, water, and more. A beautiful piece of nature can be found here. This park is located just outside the center, therefore, it is not touristy here.
In Villa Borghese, like most city parks, you can enjoy your free time in all peace, have a picnic, and play games with children. There are several playgrounds where children can play, which you can hardly find in the center. Assume that you will stay in the park for about 1 to 2 hours (this does not include the activities below). If you are going to do the following activities, it is important to bring food and drinks with you.
Tip: bring a blanket so that your children and yourself can rest which is nice when you have escaped all the hectic pace of the center.
You can also find two fun activities for children in Villa Borghese, namely Galleria Borghese and the Rome Zoo. Depending on your child, a visit to Galleria Borghese can be a top activity. This museum contains works of art by famous artists such as Leonardo da Vinci. The advantage is that you have to reserve tickets in advance at this museum for a time slot. Therefore only a limited amount of people can visit the museum so it is quiet. They also have a large garden where you can enjoy a typical Italian garden while walking. It's not a dusty museum as some others, all the more fun for kids!
The best activity in Villa Borghese is visiting the Rome Zoo. Every child loves going to the zoo so they will probably enjoy this activity immensely. The nice thing about this zoo for children is that there are many feeding moments during the day. For example, they can give wrestling to elephants and fresh grass to goats. You can easily buy tickets for the zoo at the entrance.
Activities in Rome with kids – feed cats at Largo di Torre Argentina
by Claudia Tavani of Strictly Rome
It's not hard to keep kids entertained in Rome. The Eternal City is home to the Colosseum, where children can imagine the incredible battles of the Gladiators. It's where they will be able to throw coins inside Trevi Fountain; eat copious amounts of delicious gelato and embark on pizza or pasta-making classes. And if they love cats, they will be in for a real treat! Scattered around the Italian capital there are various cat sanctuaries, some of which can actually be visited!

The most famous cat sanctuary in Rome is that of Largo di Torre Argentina, an archeological site proper located in the heart of the Historic Center of Rome, between the Pantheon, the Trevi Fountain, Piazza Venezia, and the Altar of the Fatherland. Home to the Theater of Pompey, on whose steps Julius Caesar was famously stabbed to death, the sanctuary is now home to a multitude of cats who famously own the grounds, enjoying napping in the shade of the pine trees and welcoming the regular visitors.
You can walk inside the site to spend some time playing with the cats, while the volunteers will recollect the history of the sanctuary. You can make a donation if you wish, or simply buy one of the many gadgets on sale – all profits are used to care for the cats.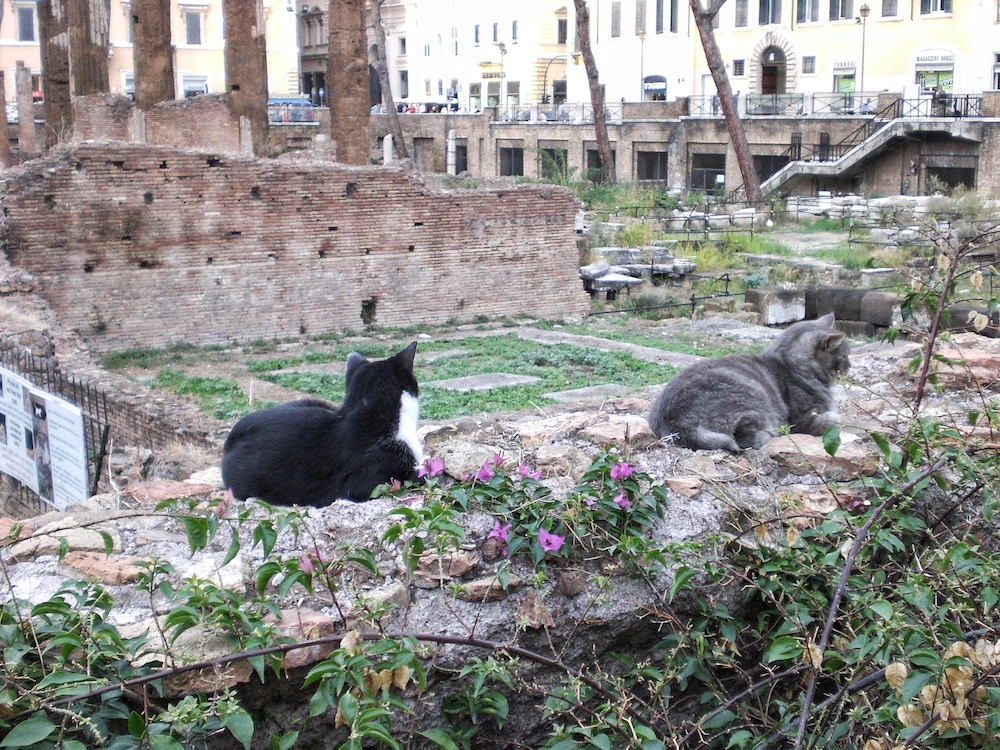 Activities in Rome with kids – enjoy Piazza Navona in the evening
by Krystee of Vacation Geeks
If you are exploring Rome with kids, our suggestion is to head to Piazza Navona for dinner. We'll tell you why right now. There are many outdoor restaurants in the plaza to have dinner – pizza, many kinds of pasta, and other traditional Italian fares. We found that restaurants there have good selections of kid-friendly food, were delicious, and the views of the plaza during dinner were fantastic. The fountains in Piazza Navona are large, beautifully ornate, and so pretty lit up at night. After dinner, the kids walked around the fountains and loved pointing out the different animals and other fun sculptures.
The main highlights of the evening in the plaza, however, are the street performers. Fire jugglers put on such a fantastic show to music and their talent lighting up the dark is mesmerizing. A circular crowd would gather to watch them and the kids loved the shows. We also saw artists that created impressive paintings of famous Italian landmarks in minutes with a flourish using spray paint and fire. The artists would make an incredible painting in front of your eyes that you could purchase, or if you wanted a slightly different variation of colors, you could look at their other creations that were available to buy.
We went to the Piazza Navona a couple of times during our trip to Rome with kids when we had an open evening and enjoyed ourselves thoroughly as a family with the delicious food and the show put on by the different street performance artists every time we were there.
Activities in Rome with kids – take a trip to Rainbow Magicland
by Ingrid of Ingrid Zen Moments

A great activity for parents traveling to Rome with kids is going for a day trip to Rainbow Magicland. Even though we didn't have any kids with us, I went with some friends for a whole day packed with fun activities. Getting to the park is easy both by car or by public transportation and your final destination should be Valmontone. Don't forget to validate your train ticket before going on the train, and expect to pay around 5 EUR for parking at the park.

You can easily spend one whole day having fun and trying out all the rides and attractions. It is easy to get around and understand what to try because there is a designated area where you can find all the rides for younger kids. Adults can also choose from rollercoasters and other more intense machines.

If you are visiting Rome for a special occasion and are traveling in a larger group, you can also plan to celebrate your kid's birthday at the park. You will not only have access to the amusement park but you will be provided with food, drinks, the presence of the park's mascot Gattobaleno, and a small gift for all the participants.

If you're considering adding this attraction to your Rome bucket list, it is worth knowing that you won't have to bring any water or food. The park has plenty of bars and stands with food and snacks to choose from.
Activities in Rome with kids – final thoughts and further resources
Those were 7 amazing activities to do in Rome with kids recommended by experienced travel bloggers. I hope they've provided you with plenty of inspiration for making your trip to the Eternal City unforgettable.
So go ahead and create your special moments and mementos with your family and let us know in the comments about your experiences! We would love to hear from you!
If you are looking for other destinations to explore with kids, check out these other amazing articles from Vienna, Book, and Travel!
Andalusia Road Trip with a Toddler