Those in search of where to go in Croatia with kids should look no further than to the coast, a favorite destination for summer vacation, but latecomers in the shoulder season are also welcome.
This article has been contributed by Ana, a local who writes for restaurants and wineries at KitchenToast. She loves to photograph and travel, especially to Korčula, which is her second home and a constant source of inspiration for new articles, recipes, and flavors. You can follow Ana on her Instagram account for more inspiration.
Croatia's coast has more than 1000 islands and breathtaking views. Croatia has small, narrow, and stone-paved streets with ancient spirits and beautiful historical and cultural heritage – due to that, it is a perfect place for relaxing, enjoying, and exploring with your family and kids.
In order to introduce you to all the beauties of the Croatian coast, let's talk about 5 places and towns which offer you the best combination of natural beauty, interesting sights, and fun activities so you and your kids can truly enjoy your unforgettable holidays!
Note: Please note that this article on Croatia with kids contains a few friendly affiliate links. Shall you make a purchase through any of them, we get a commission at no extra cost for you. Thank you!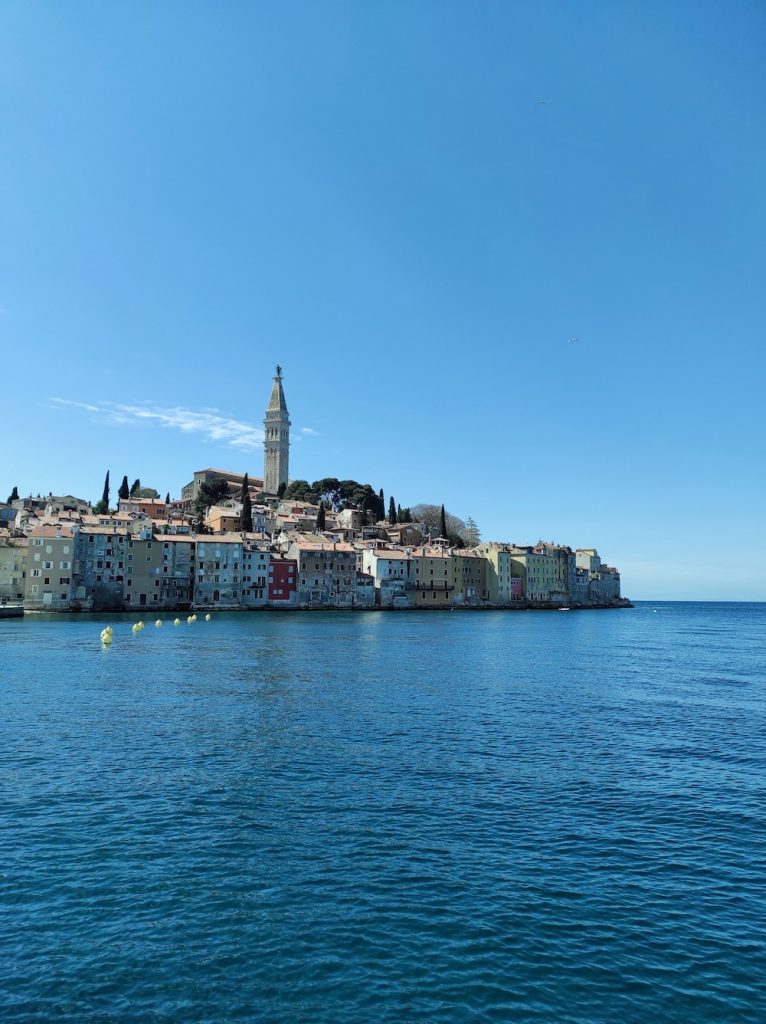 Croatia with kids – Rovinj
Rovinj is a picturesque town on the Istrian peninsula. The old town is perfect for exploring and wandering. If you or your kids are marine life enthusiasts, Rovinj Aquarium is a must. The aquarium has native and international fishes – from colorful anemones to poisonous scorpionfish. Quite a beautiful scene!
In case you're in for a bit adventurous afternoon, Aquapark Lone is a water park suitable for kids of all ages (even us adults because why not!).
Near Rovinj, you can visit Brijuni Islands. They combine relaxing on the beach, snorkeling, and scuba diving, with numerous prehistoric pines, gardens, architectural sights, and ZOO which is inhabited with indigenous Istrian and exotic African, Asian, and South American fauna.
Amarin Beach is one of the most family-friendly pebbly beaches near Rovinj. Besides that, the Moulin Rouge, cove Lone, Zlatni rt, cove Kuvi, and Monte are some of the favorite beaches for families.
Accommodation & Restaurants in Rovinj
Villa Mara, Angelo d'Oro Apartment Monte, Maistra Eden Hotel Rovinj, and Family Hotel Amarin are some of the best hotels suitable for families and kids. Villa Mara and Angelo d'Oro Apartment Monte have a classic and traditional decor that beautifully fits with the spirit of the town, while both of the mentioned hotels are modern and innovative. Choose accommodation according to your preferences, style, and location. But whichever your choice be, I'm quite sure you're going to love it!
Now, the food – Istria is known for its indigenous pasta and due to that, it is the best place to indulge in those flavors. Chefs combine pasta with numerous different ingredients, from meat to fish and seafood. Posutice, pljukanci, gnocchi, and fuži are just a couple of pasta which can be found on the menus of almost every restaurant. Besides pasta, you can indulge in classic grilled fish, squids, barbecue, ombolo, boškarin, prosciutto, and more.
Some of the must-visit restaurants are certainly Balbi, Riva Bistro, Adria Restaurant & Pizzeria, and Da Sergion. These restaurants cover everything – from seafood and pasta to delicious, rich-in-flavors pizzas!
Croatia with kids – Split
Split is a vivid city perfect for all those lovers of history and culture, a place of exploring and enjoying (especially if you or your kids are fans of Game of Thrones because some of the filming locations are in Split).
The city is quite an interesting place to visit – while enjoying your walk, make sure to rub Gregorius of Nin's big toe for luck (this is a must) and to explore Diocletians' Palace. And don't be surprised to see some Roman soldiers.
For a more playful day, visit Dinosaur Playground in Zvonac Park – your kids will love it! Besides that, there is Riva which offers a nice walk through the palms and cafes, and next to the sea.
Beach Bačvice is an amazing place quite popular with families – the sandy beach is a natural phenomenon located next to the city port. A nice hike to Marjan, Klis Fortress, Sustipan Park, and more – Split will certainly seduce you with all its beauties!
Accommodation & Restaurants in Split
When it comes to the accommodation in Split, there are many hotels, hostels, and apartments which will fulfill all your wishes for a family vacation.
Cornaro Hotel offers luxury, modernity, and elegance with innovative design and amazing views over the city. Splendida Palace is a small family boutique hotel that offers luxurious rooms inspired by the combination of traditional decor with a touch of modernity.
Marvie Hotel & Health is a small hotel that offers you comfort with the luxury setting, great location, and beautiful views of the Adriatic Sea.
Since Split is located in the region of Dalmatia but it is a vivid place where people of the world meet, the town offers a mix of classic Mediterranean dishes and world cuisines. In numerous restaurants, you can find deliciously prepared fish and shells, grilled meat, tasty vegetables, amazing pizzas, Italian pasta, and fast food.
Split certainly has something for everyone. When it comes to the restaurants, some of the best ones are Ciri Biri Bela, Tavern Nevera, Mediterraneo restaurant-pizzeria, Sug Restaurant, and CHOPS GRILL Steak & Seafood. With a rich restaurant selection, I'm quite sure you'll find something for yourself and your kids!
Croatia with kids – Vela Luka
There is one small, but so cute and family-friendly town on the island of Korčula called Vela Luka. This town is an untouched oasis surrounded by a clear turquoise sea, dense pine forest, and olive groves.
Vela Luka's main attraction is 20 000 years old Vela Spila, one of the most important archaeological sites in the Mediterranean where some of the starting points of modern civilization are found. Outside the cave, there is a beautiful view over the bay. Luka mozaika is the longest mosaic in the world and it is built into the main promenade.
Besides its beauty, the most amazing thing is that every visitor and tourist, no matter the age, can come and join the workshop and create their own stone mosaic which will later be placed on the promenade. Quite an exciting workshop for kids!
The best way to explore Vela Luka and its surrounding coves is by bike – so if you're in for an adventurous day exploring the town and the island, rent bikes and let the exploring begin!
Near Vela Luka is a small island called Proizd. It has a couple of different beaches and forests, and it is a great place for exploring. Besides that, Vela Luka has many hidden coves perfect for peaceful swimming and sunbathing afternoons.
Accommodation & Restaurants in Vela Luka
The hotel which stands out is Hotel Korkyra. This is a new and modern hotel placed in the center of the town. It has an amazing view over the bay and a beautifully designed terrace with a pool. Besides the hotel, there are numerous apartments in the town, as well as in the nearby coves which have breathtaking views, beautiful decor, and traditional spirits.
The inhabitants of the island use simple, everyday, and accessible ingredients in order to create amazing dishes. If you're a lover of classic Mediterranean cuisine, visit the restaurants Pod Bore and Lučica. These two restaurants have an amazing selection of seafood such as risotto, shells, grilled fish, fish soup, žrnovski makaruni, and more.
If you're a lover of pizzas and pasta, then Casablanca and Baltoni are your perfect match! Oh, and make sure to stop by the local ice cream shop – the ice cream is delicious while the owner loves to entertain both adults and kids with flipping ice cream cones and scoops!
Croatia with kids – Mljet
The beauties of this island are well-known and here, you'll find peace and enjoyment.
Mljet National Park has 2 beautiful saltwater lakes – Veliko and Malo Jezero (Large and Small Lake) and they are great for a nice walking experience. Right in the middle of the Large Lake, you can visit (by boat) a small islet Melita with a Benedictine monastery which is now a cafe and restaurant.
Odysseus Cave is a great place for kids and cliff jumping. Besides that, you can snorkel and explore the cave by boat. The Park also has easy and traffic-free lanes which are great for cycling.
Mljet has a kids-friendly (and adults-friendly, of course) diving center so your entire family can enjoy the beauties of the sea depths. For enjoyment and relaxation, make sure to visit the beaches Sutmiholjska, Saplunara, and Limuni (Blaca)!
Accommodation & Restaurants in Mljet
The best way to really enjoy the island is by staying in some of the apartments which are spread throughout the island.
PineTree Boutique Apartments is located near the beach, and it has a minimalistic and modern interior with a view over the bay and the Adriatic Sea. Apartments Pavlić has simple and cute accommodation near the beach, while Villa Stella Adriatica is simply beautiful.
If you want to stay in a hotel, then visit Hotel Odisej Mljet – an elegant hotel with a design inspired by the island's life and beauty.
If you're visiting Mljet, prepare yourself for a Mediterranean diet – fish, octopus under peka, grilled eels, lobsters, tuna steak, brodetto, and more. And don't worry, if you're a lover of meat, you can try goats and game! To indulge all those flavors, visit the taverns Barba Ive, Ribar, and Mandrac. Lukas Taverna is a traditional restaurant with an amazing view, while tavern-pizzeria Riva offers delicious octopus goulash, seafood pasta, and tasty pizza!
Croatia with kids – Dubrovnik
Dubrovnik is the Pearl of the Adriatic, and it is filled with well-preserved historical and cultural architecture, buildings, and heritage. The Old Town is one of the world's most perfectly preserved medieval cities. The Dubrovnik City Walls which surround the town are perfect for a walk with the best views over the Adriatic Sea on one side and a city on the other side.
The Old Town is a great place for exploring and wandering – you must visit Stradun, city gates called Buza, Pile, and Ploče, as well as the city's fortresses. To enjoy breathtaking views, make sure to take a Dubrovnik cable car.
Your kids will love Cadmos Village Adventure Park and buggy safari, while an Elaphiti islands cruise, which includes the visit to Šipan, Koločep, and Lopud, will be a true delight!
Accommodation & Restaurants in Dubrovnik
Rixos Premium Dubrovnik is a beautiful hotel with a sea view, amazing restaurant, and kids-friendly pool and playroom.
Royal Blue Hotel is a modern and luxurious place to stay, Scalini Palace has an outstanding traditional design, while Rilati Old Town Palace is a small and charming hotel located in one of those small and narrow streets.
Besides the hotels, there are numerous apartments that bring the authentic vibes and charm of the town of Dubrovnik.
Like the rest of the Dalmatian coast and islands, Dubrovnik also offers a rich selection of beautifully prepared seafood.
Tavern BoGo is a beautiful restaurant with breathtaking views and rustic vibes, while Fort Four Restaurant combines well-made and delicious Mediterranean and classic European cuisines. BOWA Dubrovnik is located in a small cove on the Šipan island, and it nurtures beautiful island's authentic vibes with a touch of luxury.
Lucin Kantun is a hidden gem in Old Town in one of the cute narrow streets. Oh, and a small tip – while in Dubrovnik, make sure to try rozata – a traditional Dalmatian pudding with caramel dressing.
Croatia with kids – final thoughts
Croatian coast and islands are filled with interesting, charming, and simply beautiful family-friendly places. Some of them are ideal for exploring and wandering, while the other ones are perfect for relaxing and enjoying time with your family. But all of them are beautiful and breathtaking, and they have amazing cuisine to offer. So just make sure to enjoy all moments with all your senses!
These articles on exploring with kids might also be of interest to you:
Like this article? PIN IT!