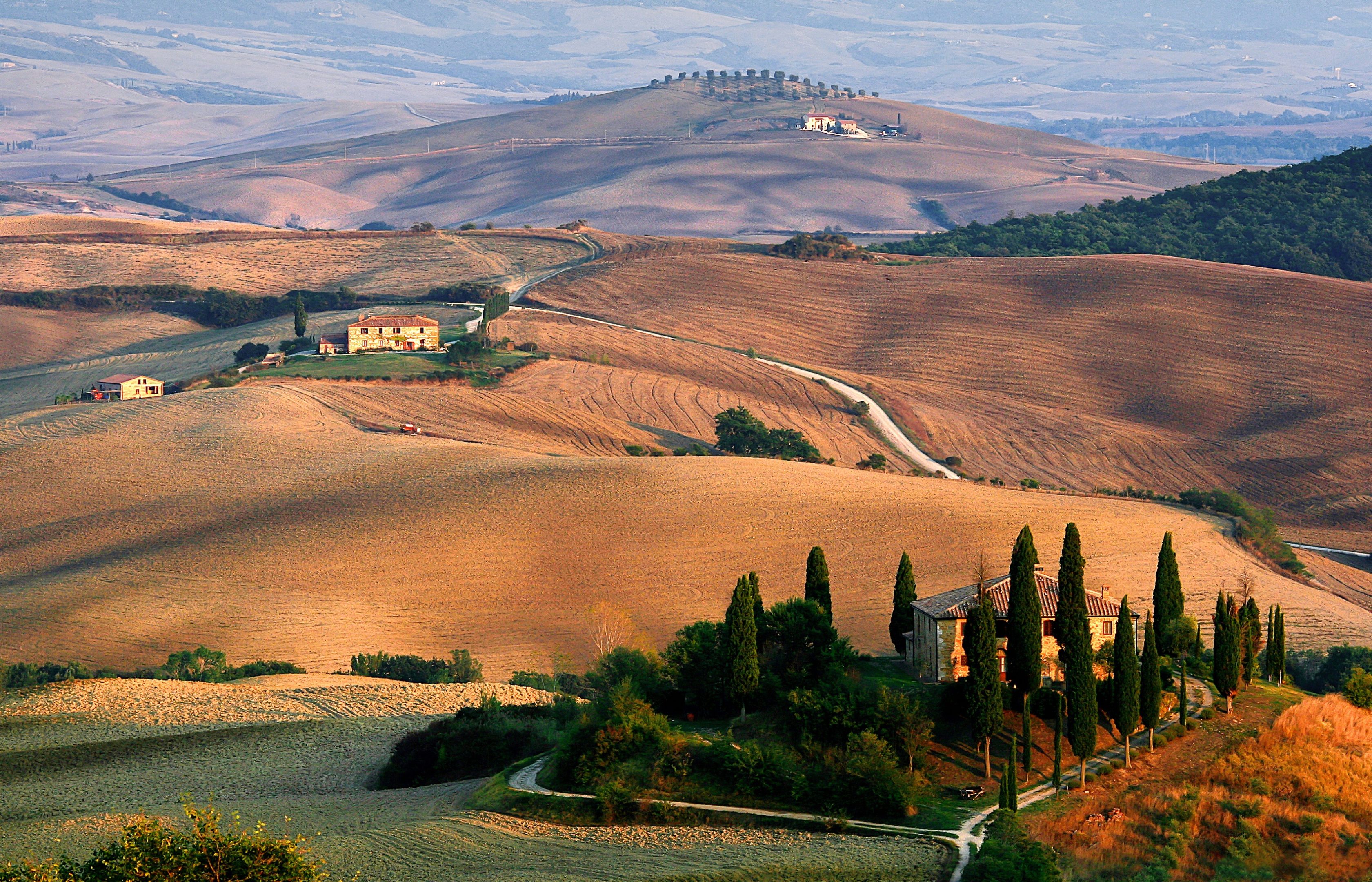 On the 16th of October 2014, Sinan proposed to me in Florence, in our room with a view somewhere in San Lorenzo. One year after our romantic/cultural road trip driving in Tuscany we were married in Vienna. Six years later, we are the proud parents of a two-year-old baby girl. Our life is a dream we keep dreaming that started driving in Tuscany's narrow roads, a destination that will always be special to us. Please note that this article contains a few friendly affiliate links. Shall you make a purchase through any of them, we get a small commission at no extra cost for you!
Books I read before our driving in Tuscany road trip
It was around Christmas time in 2013. We had just moved into a new apartment and were enjoying the holidays at home reading, cooking, watching TV, planning ahead, and generally going through a list of 100 fun things to do at home. It was then that I stumbled upon Michael White's "Leonardo, the First Scientist" and "The Medici Secret", alongside Jonathan Jones' "The Lost Battles", which I had purchased as mementos on our trip to Milan two years earlier.  And there was no getting around reading Dan Brown's "Origin", which really got me very curious about the city of Florence!
Once I started, I went through the next purchases like fire: "The Swerve", "The Light in the Ruins", "The Agony and the Ecstasy", "Isabella de Medici", "Brunelleschi's Dome". For the connoisseurs, I have to mention Ioan Petru Culianu's "Eros et Magie à la Renaissance. 1484", and the reading list goes on today including "A Room with a View", "The Birth of Venus", "The Enchantress of Florence", and my latest purchase "Florence: The Biography of a City".
Planning a driving in Tuscany adventure - cultural and romantic road trip in one package
By February I was fascinated with the Renaissance and Florence, which I felt I already knew although I had never been. It only took a couple of bottles of Brunello and some readings on food travel in Tuscany to convince ourselves, culture and book addicts, foodies and wine aficionados, that Tuscany is our next destination.
We landed ourselves deal flights from Austrian Airlines to and from Florence for October 2014. We flew into Florence on a Sunday and spent Monday and Tuesday in the city. On Wednesday we rented a car and spent the next three days driving in Tuscany, flying back to Vienna the next Saturday. We still kept Florence as our base and came up with round trips driving in Tuscany itineraries for each of the days.
Regardless to say, for those that know us less, we went off track and off the beaten path on multiple occasions, which is what we do best.
On a personal level, this holiday will always be especially cherished among or memories. Looking back realistically, trying to adjust our itinerary such that I would recommend it to you, there are a few things I would do differently, starting by extending the stay to at least 8-9 days.
Firstly, besides my own readings and preferences, I would solely rely on Visit Florence and Discover Tuscany for planning our Tuscany romantic road trip. They have researched everything there is about the region and are truly helpful for independent travelers, as well as offering good tours for the conservative ones.
Secondly, I would look into renting a car from an international company. We went local (Maggiore) and ended up spending 2-3 hours for each pick-up and drop-off, valuable time in a 5 days vacation.
Thirdly, I would not make Florence our permanent base. Roads in Tuscany are narrower than you are used to and quite crowded. You will inevitably end up driving provincial as well as local winding roads during your driving in Tuscany itinerary.
All this contributes to an authentic driving in Tuscany experience and will offer you enchanting vistas, the disadvantage being that you will spend a lot of time on the road. Having to always drive back to Florence at the end of the day reduced the time of our day trips considerably and made us more tired than changing hotels a few times would have.
Finally, if at all possible, I would include in a driving in Tuscany itinerary at least a few of the magnificent Etruscan sites in the region. Even if you are not fascinated with this civilization like I am, you should allow yourself to learn more about the Etruscans during your tour of Tuscany.
Optimized travel itinerary for a driving in Tuscany cultural/romantic road trip
While putting thoughts into order, organizing the perfect driving in Tuscany itinerary to recommend, I also stumbled upon my collection of impressions of the Florentine skyline – which I will share with you below.
We still have exactly two bottles of Montepulciano wine that we brought back with us. As soon as those are over we will be booking our optimized driving Tuscany road trip adventure. It will look like this (map from Google maps). We'll see how the toddler likes it, as we did learn a thing or two from our Andalusia road trip with a toddler adventure.
Driving in Tuscany part 1 – 3 days in Florence
What we did wrong in Florence was to not get the Firenze card, and focus on the usual attractions – the Uffizi and the Palazzo Pitti and Boboli Gardens. Although it might sound like sacrilege, my strong recommendation is to skip these destinations altogether.
Never in my life have I been so frustrated with a museum than with the Ufizzi, where visitors would flock to take pictures of every masterpiece, making it impossible for others to fully admire it. A good quality art album of the masterpieces in the gallery is a much better investment for both the frustrated visitor who does not get to enjoy the museum and the photographing visitor who enjoys neither the masterpiece nor the photo.
In what the Palazzo Pitti is concerned, in my view, it is not representative of what Florence primarily stands for – the Renaissance. As it was the later (1550) residence of the Medici and then of the dukes of Habsburg-Lorraine, it contains elements one easily finds in similar palaces across Europe (for example, the Schönbrunn in Vienna). Instead of the Boboli gardens, I would recommend the Giardino Bardini and the Giardino Delle Rose on your way to Piazzale Michelangelo on day 3.
Check here the recommendations we put together for 25 amazing locations to eat in Florence.
What we did right in Florence was to set our base in San Lorenzo, which is an authentic, lively, romantic neighborhood, offering exploration options in all directions. Every day we would take a different route back to the hotel, so we discovered traditional stationery, wine, food, books, leather, and souvenir shops on our way each time, without having to specifically search for them.
Medium-budget 3 star hotels in Florence offer authentic and comfortable experiences that usually include breakfast and magnificent views of the Florentine skyline and Duomo. Such stays can be booked at Hotel Corona, Hotel Ester, or Hotel Cosimo de Medici or Hotel Accademia mention a few of our personalized itineraries customers' favorites.
Day 1 – Take time to walk the walk – San Lorenzo, Piazza del Duomo, Via Roma with Piazza de la Republica, Ponte Vecchio, and back through Piazza de la Signoria, Via dei Calzaiuoli and Orsanmichele, Piazza del Duomo and San Lorenzo. Make sure you decide ahead which sites you want to explore in-depth and reserve the time to visit them. End the day with a typical Florentine dinner at Trattoria Le Mossacce.
Day 2 – Starting from San Lorenzo, visit the Mercato Centrale and take via Sant' Antonino to reach the Church of Santa Maria Novella. Head back to San Lorenzo for lunch, and in the afternoon explore the Palazzo Medici Ricardi, Via Cavour, Piazza San Marco, Piazza della Santissima Annunziata. Choose some museums of interest: Galleria dell'Accademia, Museo degli Innocenti, Museo Archaeologico Nazionale, Museo Opificio delle Pietre Dure (semi-precious stone inlays). Stop by Eataly and enjoy Italian cuisine with a modern flair! Make sure to take along some items for your room/your bags! You'll miss this place!
Day 3 – Walk behind the Duomo, make a stop at Pegna, the gourmet grocery store, then take Via del Proconsolo to explore the Bargello and see the Badia Fiorentina. Take the Borgo dei Greci to reach the Piazza di Santa Croce and the famous basilica. Spend the afternoon in Oltrarno, focusing on the Piazza and Basilica Santo Spirito, and the church of Santa Maria del Carmine with the Branccaci Chapel. Make sure to end the day in the Piazzale Michelangelo, taking in the panoramic view over the city. Bring some supplies for an impromptu dinner from the day before!
Driving in Tuscany part 2 - 5 days on the road- a romantic/cultural road trip
Day 1 – drive from Florence to Sienna through the Chianti wine region. Visit some of the villages (Greve, Panzano, Radda, Gaiole, Castellina), and book tasting appointments directly with the producers (for example, the Enoteca del Barone Ricasoli – Castello di Brolio, Gaiole in Chianti).
Day 2 – Get lost in Siena's unique charm, before heading to Montepulciano via Pienza and Montalcino. You should include at least one wine tasting stop in the Montalcino region. Plan to spend the next two nights in Montepulciano, where you should also learn about wines produced in this region.
La Terrazza Di Montepulciano is a recently renovated, comfortable hotel on the main street of Montepulciano, in the heart of the historic center. It was recently restored with local materials and is directly managed by the owners, Roberto and his wife. Give it a try!
Luxury seekers will be impressed beyond reproach by Palazzo Carletti, set in a Medieval building with original frescoes, high ceilings and views over the Chiana Valley and Lake Trasimeno. Some rooms here even come with a large spa bath or an en suite Turkish bath.
For apartment accommodation in a Tuscan-specific mansion that includes a swimming pool, give Borgo Poggiardelli a look!
Day 3 – Take a day trip from Montepulciano (returning in the evening, maybe with a stop for wine tasting) to Orvieto, the religious center of old Etruria. Stop on your way to see the museum dedicated to the Etruscans in Chiusi, and the intact Etruscan Tomba de la Quadriga Infernale outside Sarteano (check out opening days and times in advance).
Day 4 – Drive from Montepulciano to Volterra to see another impressive museum collection on the Etruscans and purchase the famous Volterra alabaster hand-made objects. On your way, consider a stop in San Gimignano with its distinct skyline and atmosphere, Colle di Val d'Elsa with its medieval architecture and crystal glass shops, or Monteriggioni, a medieval hilltop town.
Albergo Etruria and Hotel Volterra In are both great choices with good value for money for an overnight stay.
Day 5 – After an overnight stay in Volterra head to Pisa, home not only to the leaning tower on the Campo dei Miracoli, but also a vibrant university town worth getting to know.
For those with more time on their hands, check out here more ideas for day trips from Florence.
Depending on your flight schedule, drive back to Florence. Enjoy the most famous skyline on earth once more before boarding. Make this a cherished memory, but be aware – although it seems like you did it all, Tuscany is one of those few special places that you will miss. And within a few years, looking over old pictures and enjoying a glass of wine, you will consider it again as a dream destination.