Turkey's most famous seaside city is known worldwide for the countless all-inclusive resorts that line hundreds of kilometers of coast around it. As the holiday season comes closer, we want to draw attention to these fabulous Antalya excursions you can do as day trips from any hotel in the area.
Take a break from turquoise waters, sandy beaches, extraordinary cuisine, and entertainment, and discover authentic Turkey which is literally outside your hotel's doorstep. We've been doing day trips around Antalya over the past seven years, so here's the list of our favorite spots.
Note: This article contains a few friendly affiliate links. Shall you make a purchase through one of them, we get a small commission at no extra cost for you. Thank you for supporting us in this way!
Before we start, check out the LIVE NOMADIC MONDAY PRESENTATION VIDEO for this article.
1. How to organize a day trip/excursion around Antalya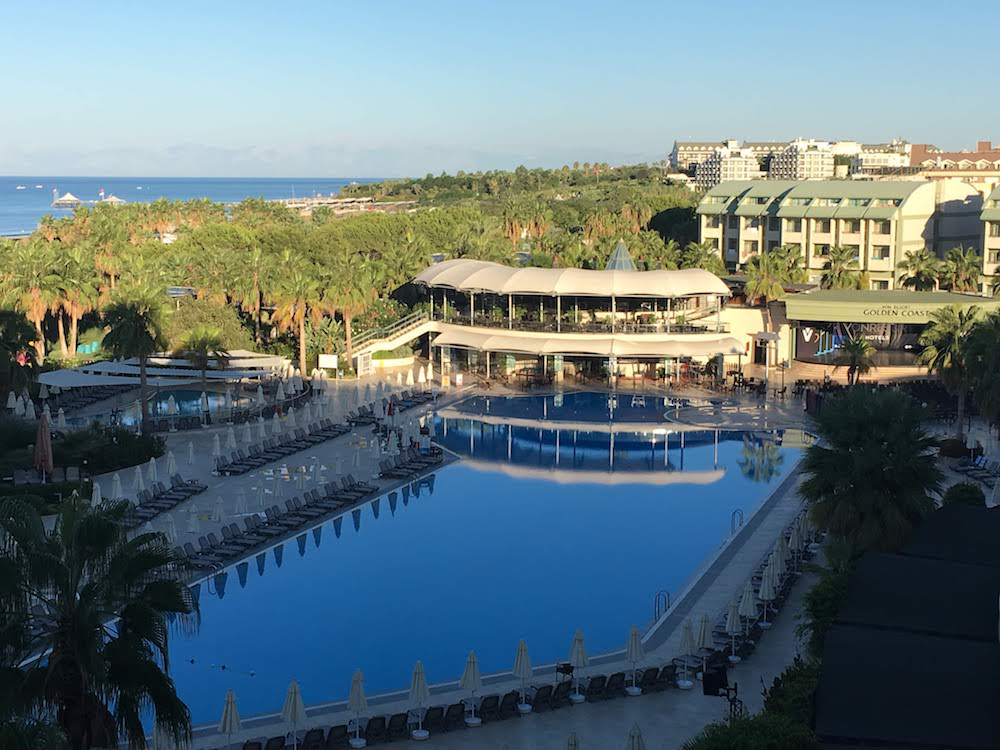 For seven years in a row, we have been going to the kids-friendly Vonresort Golden Coast and Vonresort Golden Beach all-inclusive complexes just outside Side/Manavgat, about 80 km out of Antalya. While on a survey we conducted in 2019 on Facebook such holidays got a 60% yay over 40% nay votes from our readers, we have ended up believing that for families with small children such setups make perfect sense. Couple that with the option to see a few authentic places nearby during day trips and you've got yourself the perfect family summer vacation.
Below I listed additional all-inclusive hotels and resorts we recommend based on the experiences of our personalized itineraries customers. Please note as you book that all these facilities have additional hygiene safety measures in place for 2021.
Kamelya K Club Aqua – Ultra All-Inclusive – Kids Concept
Granada Luxury Belek – Kids Concept
Please make sure to follow the local and national authorities' advice with regard to safe travel in light of the 2021 coronavirus pandemic and check any bookings you made for last-minute changes as well as the requirements for entering Turkey (https://www.iatatravelcentre.com/world.php).
We always rent a car for the duration of our stay, as this allows us the flexibility to shop at local markets and supermarkets in Manavgat (the non-touristic twin of Side), as well as go out for short day trips and excursions.
Most hotels are more than happy to organize a car and/or a driver for you for a single day, while some even have car rental desks at their reception, making it easy to organize your Antalya excursions also on a short notice.
We do not advise traveling by taxi as it can get quite pricy. Local public transportation options are relatively unreliable, crowded, and they can quickly become a hassle if you do not speak the language. Thus, a car rental or a private driver booked for the day are the ideal compromise of quality and price in this situation.
Even for those looking to discover Turkey by bike, there are plenty of noteworthy stops in the area! Keep reading!
2. Antalya excursions – the old town/harbor
Are you a regular/yearly visitor to the Turkish coast and have not yet seen Antalya's old town? It's quite understandable, as going out in the heat is not something anyone fancies. But for those who do, we can guarantee the old harbor is shaded by umbrous trees under which you can relax at authentic terraces and restaurants.
With a history that started in the Hellenistic period, when it was founded by King Attalus of Pergamon, the city has been an important port for the Romans, the Ottomans, and modern Turkey. You'll easily reach the Kaleiçi (old fortified port) by walking through a labyrinth of narrow streets from Kale Kapısı, the city's main square. Start your visit from the famous clock tower Saat Kulesi built during the reign of Ottoman Sultan Abdül Hamid I.
Step back in time while wandering through souvenir, crafts, and carpet shops and imagine the layers upon layers of civilizations that have walked the same steps. Truth be told, it is here that you can also score some amazing local deals on souvenirs as well as hand-made carpets and ceramics.
At the end of your walk, you'll get once again magnificent vistas of the Mediterranean, the sea that has seen it all. For panoramic views over the old harbor, there's a lift taking you up from Cumhuriyet Street, while history fans should not miss the amazingly conserved 3-arched gateway built to honor the visit of emperor Hadrian in 130 BC.
3. Antalya excursions – ancient theater Aspendos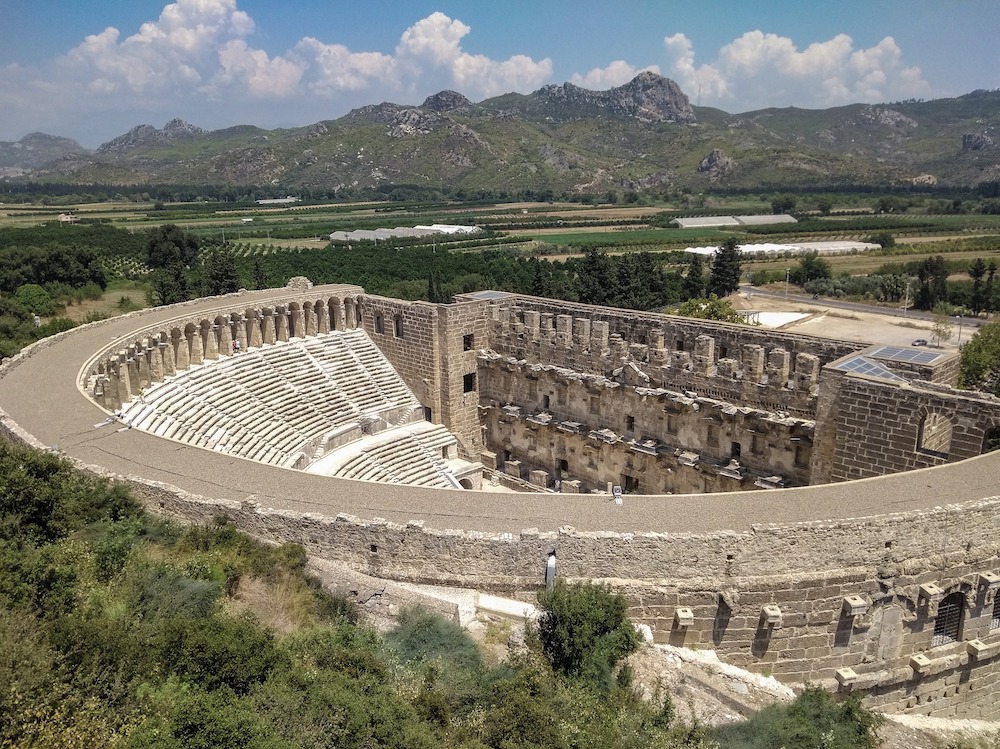 A world wonder, Aspendos is the best-preserved theatre left to us from Antiquity. Built by the Greek architect Zenon back in 155 BC, it has outstanding acoustics that is still appreciated nowadays. Aficionados are undoubtedly familiar with the Aspendos International Opera and Ballet Festival held here every year.
With a diameter of 96 meters, the theater could seat up to 12,000 people. During the pre-Ottoman Seljuk period, it was used as a caravanserai and it is due to maintenance and repairs operated during these times that we owe the privilege to enjoy this wonder even nowadays. Time your visit during mornings/late afternoons such that you can explore the ruins of the ancient city that were uncovered beyond the theater.
4. Antalya excursions – Alanya
Yes, we know you are here to escape heat-ridden cities and enjoy the seaside. On the drive from Antalya to Alanya, the Mediterranean will spoil you with some of the best views in the region and you'll be able to stop and buy fresh fruit and a snack directly from locals selling them by the side of the road (it's totally safe, we promise). It's one more stop in the trails of history and then your Antalya excursion is all fun and games from here! Hang on!
Alanya's natural strategic position on a peninsula below the Taurus Mountains has seen it part of the Seleucid, Roman, Byzantine, and Ottoman Empires. Alanya's castle and main sights were built under the Seljuks in the 13th century.
As the city starts the renovation of its main attractions, one should not miss the Seljuk castle with breathtaking views of the sea and stop to appreciate the Byzantine era church of Saint George which has also been used as a mosque.
On your drive downhill, locals offer garden retreats where you can stop for tea and gozleme (pancakes) to restore your energy levels. A walk along the city walls will allow you to appreciate traditional Ottoman villas from the 19th century. The interior of such a villa can be seen at the Ataturk Museum in town, where the political colossus was briefly housed in 1935. To cool down, do not miss the Damlatas cave with a specific microclimate of 72°F (22 °C) temperature and 95% humidity.
5. Antalya excursions – waterfalls
Whether you need to escape the heat or your kids (or both), why not take a promenade/go for a family picnic in the natural park of the Kursunlu Waterfall?.
A pine forest with rich flora and fauna is available literally on the other side of the road as the seaside landscape turns into lush vegetation towards the Taurus mountains. While children can look forward to encountering rabbits, squirrels, woodpeckers, tortoises or other small animals, adults can enjoy the serene atmosphere of undisturbed nature.
These are not the only waterfalls in the area. The Duden are a group of waterfalls formed by recycle station water, with the lower ones flowing directly in the Mediterranean sea. The less visited Manavgat waterfall is one of our favorite places, as nearby local taverns that serve freshly cooked fish provide an authentic dining experience.
6. Antalya excursions – Perge (written by @SlowTravelGuide)
If you want to add a healthy dose of culture in the form of an ancient site visit to your Antalya excursions, consider a visit to Perge. This fabulous ancient site located just east of Antalya has a lot going for it. Perge offers a mixture of astonishing Greek columns and colonnaded streets, a glorious stadium opposite a spectacular theatre, and an impressive Roman bath complex, just to name of few of the landmarks.
If you're traveling on a budget, note that entrance to the theatre is free of charge, as it is located opposite the actual ancient site.
The well-preserved structure had enough room to accommodate 15.000 spectators and features a richly ornamented stage building with detailed reliefs portraying mythological figures. Inside the actual ancient site of Perge, you'll be wowed by the many still-standing structures. Make sure to head over to Hadrian's Nymphaeum, and the viewpoint above it to admire the antique city from above.
If you plan on visiting the entire site, count a minimum of 3 hours. Please remember to bring sun protection, especially during the summer months, as there's not a lot of shade to escape the burning sun. Also, sturdy shoes are essential to be comfortable on all terrains at Perge.
Read more about Perge in this post on Slow Travel Guide!
7. Antalya excursions – Side
In all honesty, there is a reason why Side is last on our list. We do not particularly go for the over-touristic conglomerate of souvenir shops, restaurants, and hotels set among ancient ruins.
However, there is a certain charm to Side if you manage to shut out the crowds and cherish the sunset views over the Apollo temple and the sea. The atmosphere, particularly after nightfall, is not so bad either for those looking for the typical liveliness of seaside resorts and wanting to get a breath of authenticity out of the rather artificial paradise constructed by all-inclusive resorts. I'll tell you what – give it a try and come back and tell us what you think in the comments below!