The first month of 2022 will be my 14th January spent in Vienna. Coming back from the holidays, I find the city awakened and refreshed after the somehow artificial glow and glitter bestowed upon it with the occasion of the famous Christmas markets, New Year's Concert, and change of the year street celebrations. The crowds of tourists covering 15 Christmas markets in one day are gone, and so are most of the holiday lights and decorations. There is a typical aloof Viennese quality to the first two weeks of the year, which is definitely worth exploiting for a truly authentic experience of Austria's capital. Here is our list of favorite things to do in Vienna in January, which are as many reasons to visit.
Please note that this article contains a few friendly affiliate links. Shall you make a purchase through any of them we get a small commission at no extra cost for you! Thank you!
Watch here a short video we have filmed in the city last January and read below six great reasons to visit Vienna in January!
We do need to warn you! If you do follow our tips carefully, you might fall in love with Vienna and even start wishing to live here! It happened to us more than 10 years ago! If so, you're more than welcome to move to Vienna, or as Austrians would say "Umzug Wien!".
Vienna in January – where to stay?
We are long-term residents of Vienna's 4th and 5th districts, that is the area right behind the Karlskirche (see photo above). We always recommend this neighborhood to our visitors due to proximity to the city center, a multitude of restaurants and cafes for every taste, as well as excellent public transportation options. Whether you choose an apartment with a nice terrace , an affordable and comfortable hotel, or an amazing hostel, you'll stay in one of the city's most lively districts.
A complete guide to the neighborhood and the accommodation options it offers can be found in our dedicated blog post on where to stay in Vienna.
Whereas the 3rd, 6th, 7th, 8th, and 9th districts are all very well situated also, our second favored area to stay in the city is in the proximity of Vienna's new main train station and the Belvedere Palace. Here you are again spoiled for choice with plenty of hotels, apartments, and hostels.
Vienna in January – what to read?
We have dedicated a whole article to the best books set in/about Vienna, but we will also leave you below some of our favorite suggestions.
True literary aficionados can follow our Bookworm's Vienna Walk described in detail in the Instagram post below.
Vienna in January – what to do?
Vienna in January – enjoy the quiet – see and hear the city of music
If you ever thought about visiting Vienna, you know the famous picture of the silhouette of the Stephansdom (St Stephen Cathedral) against a dark-blue or black winter sky. Looking up to the majestic cathedral while the cold, moist Viennese wind penetrates your every fiber, that you can only properly do when there are no crowds pushing you around, in or out of a quick picture with the church and the Christmas tree in front of it. During the months of November and December, the Stephansplatz (St Stephen Square) is turned into a Christmas market. As fairytale-like as the atmosphere is during that time, all the glitter and lights prevent you from taking in the view of the Graben and the Kärntner Straße, the two pedestrian arteries, as they start majestically from the Stephansplatz. In January, although not deserted, the place is quiet. Pedestrians hurrying oblivious towards the metro station or chatting while strolling towards their favorite coffee house are typical for Vienna. You might notice not only the sky against the buildings of the city center but also the light snow in the crisp air or the mild, hopeful, spring breeze, depending on the particular day. This is part of the city's charm as much as the buildings. Pay attention, you might hear the bells of the Peterskirche calling or Vienna's really talented street musicians. A flute player on the Graben, a blind tenor on Kärntner Straße, and the sound of your own steps as you walk in the tracks of Mozart and Beethoven, it does not get more Viennese than that…..
Vienna in January – you're in for an authentic Viennese treat
Vienna's best coffee houses
…..unless, of course, you decide to enter one of the famous coffee houses or spend an evening at the State Opera. In both cases, you should be able to get the best seats effortlessly. Last year, I was in Leopold Café Hawelka one evening and not only did we not have to wait for a table to clear up, but it actually felt like being in a library, with everybody quietly minding their conversations in hushed tones, Viennese style. Without any reservations, you could easily get the best seats in Café Museum or Cafe Heiner, or listen to live piano music in Café Central in the evenings. Viennese Coffee Houses and their tradition are part of the untouchable UNESCO world cultural legacy and there's no better time to explore them than January! Take that book along!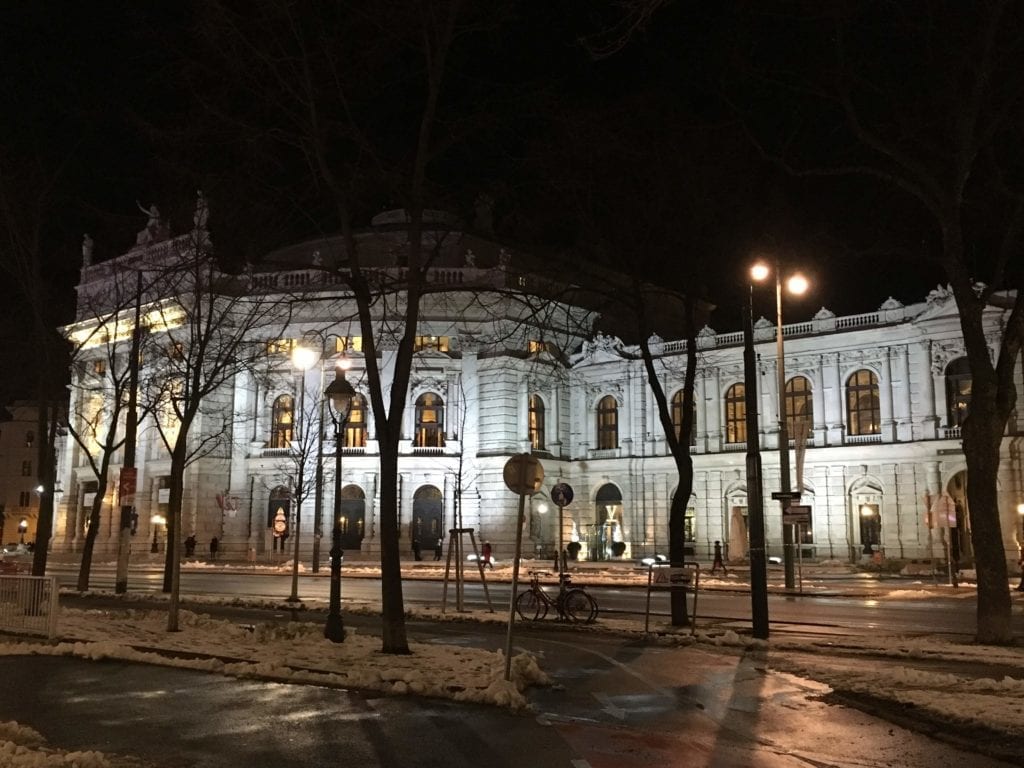 Vienna's best concerts
If you want to attend a concert, go online prior to your visit and book your tickets directly from the provider. The Vienna State Opera and Musikverein are common choices, but browse through what the Theater an der Wien and Konzerthaus also have to offer. There is always something for every taste on any date of choice, if you plan a bit ahead. That is one important lesson I learned booking tickets in Vienna over the past ten years. Do not rely on getting them from street vendors or attending last-minute Mozart or Strauss concerts, typically overpriced and designed for mass consumption.
Exceptionally, we cannot recommend enough VIVALDI'S FOUR SEASONS IN THE KARLSKIRCHE!
They are held in this particular church as the Venetian composer Antonio Vivaldi died in the Gottesacker hospital that used to be next door and was buried in the nearby cemetery. The tomb was subsequently lost, but there's a plaque to commemorate it. Beyond being extremely photogenic, the Karlskirche is one of the most interesting churches in Vienna! Baroque masterpiece of Johann Bernhard Fisher von Erlach, inspired by Trajan's column and St Peter in Rome, in the care of the Knights of the Cross with the Red Star, a military religious order dating back to 1233. Exceptionally, attending a concert there is a unique way to see the inside, which is otherwise only possible for a fee.
Vienna in January – It's already sales season
A visit to Vienna in January is bound to save you some cash. Hotels, trains, and flights are cheaper, and so are concert tickets booked ahead. That's a good thing, as most shops start the winter sales immediately after the holiday season. Therefore, make sure to save enough time, money, and energy for a shopping spree on Mariahilferstrasse or at the Donauzentrum. If you time your expedition right – that is during the working hours on a weekday – you will have the privilege to browse freely, as most locals are at work and sales hunters are still inexistent. Do not postpone too long; eventually, word will spread and by late January the entire city will be assaulted by those attracted to the sinking prices.
Vienna in January – museums are museums again
Did I mention how Christmas markets tend to overshadow the city's landmarks? Well, bear with me, as museums are still the best example of this phenomenon. Meeting up with friends who visit Vienna before Christmas, they often mention they've been at the Belvedere, the Maria-Theresien-Platz, the Museumsquartier, or the Schönbrunn…..Christmas markets. These are built-up in front of the respective museums and offer worthwhile experiences – we tour them too and never get enough. But for a lot of people who pass through the city for a few days, eager to take in as much of the atmosphere as possible, the practice of the Viennese to use the city's famous locations as punch-drinking meeting places might just prove too confusing or distracting. In January, if you want to hide from the biting wind for a few hours, try any of the above-mentioned museums. And when you are tired of browsing, do stop in the café of the establishment and try a Café Maria-Theresia – my favorite substitute to punch.
Vienna in January – nothing warms you up better than chocolate
Still not quite warm enough? How about a visit to the Chocolate Museum in the Prater? Granted, you cannot go on the merry-go-rounds of the oldest amusement park in the world in this weather, but you can still stop by for one of Vienna's most authentic experiences. The museum takes you on an interactive world tour dedicated to chocolate/cocoa history and you can follow up with participating in a chocolate-making workshop run by passionate experts. Hot cocoa, endless chocolate tastings, and a warm, friendly atmosphere will make you remember Vienna in a sweeter light! Click here and let us organize your visit for you!
Vienna in January – not all the glitter is lost
Still worried you'll miss a glimpse of fairytale Vienna? Don't worry; it is still there, hiding in plain sight. For starters, remember those bells calling earlier on? The Peterskirche on Graben is a beautiful baroque church standing on the site of Vienna's oldest church founded by Charlemagne. Dare to go in, as they do keep their Christmas decorations on during January and offer remarkable organ concerts in the evenings.

Secondly, no matter if you live in Vienna for a long time or just spend a few days here, you cannot and should not avoid the delicious pastries and cakes for which the city is famous. In order to burn down all those extra calories, the Viennese have two very characteristic activities in January. One of them is to attend as many balls as possible and simply turn everything into a waltz. Elegant and as glittery as it can get, this experience is definitely worth every penny. If you fancy attending a ball during your stay, be sure to go online and follow the booking advice I gave you when talking about concert tickets.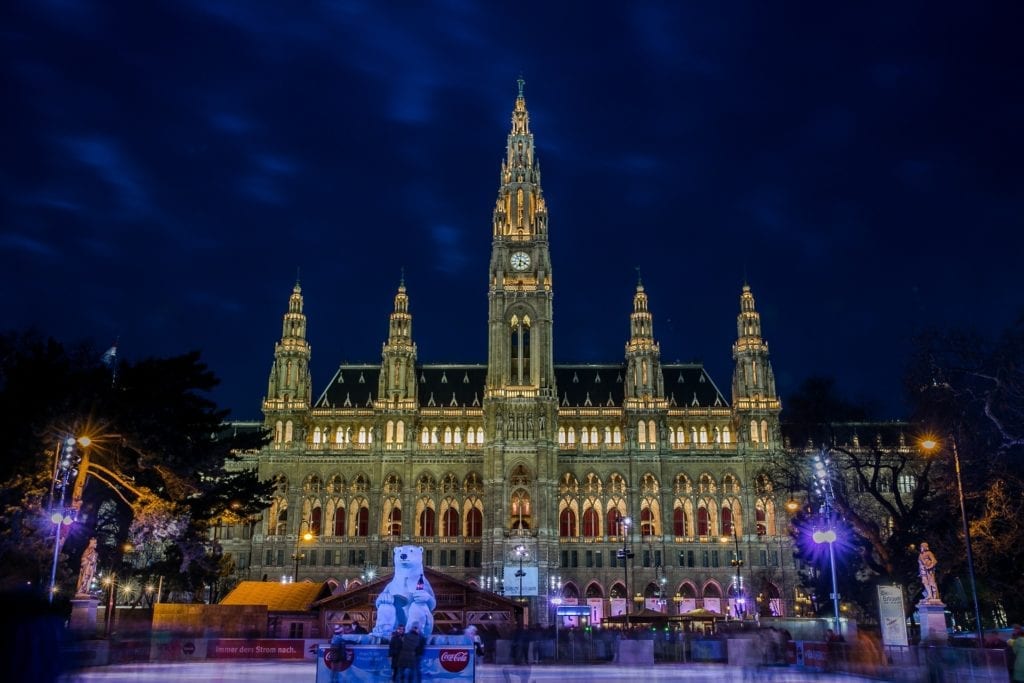 Thirdly, there is one place in Vienna that should never, under any circumstances, stay empty for too long. And that is the Rathausplatz. Be it the Christmas market, the circus, public viewings, or the summer international food festival, whatever is going on at the Rathausplatz is emblematic for the mood of the city at the respective time point. In January, that is the Wiener Eistraum, when the whole place is turned into a fairytale ice-skating rink. One of my top favorite destinations to burn down calories as ice-skating is a good way to exercise and something I look forward to every year!
If you need more suggestions for your visit, you find here our three days in Vienna itinerary and you can further refer to our Viennese insights! As we do not want you to feel too cold or too lost, we urge you to contact us directly for personalized suggestions and help! We are looking forward to hearing from you!